Receive Daily Gospel Reflections in your inbox
Today's Gospel: Matthew 5:20-26 - Memorial of St. Anthony of Padua Today's Gospel is a challenge to us. We must avoid murder, but we also must not be angry with a brother or call someone a fool. We must not bring a gift to the altar if a brother or sister has something against us. We must reconcile first. And we must come to terms quickly with an accuser. The Lord warns that hateful thoughts and feelings, holding grudges, not reconciling with others will all bring judgment upon us. Jesus says these thoughts can make us liable "to fiery Gehenna." This is not a friendly reminder. This is a stern warning. Those of us who follow politics might ask ourselves what we think when listening to a political opponent on TV. We must call no one a fool. Most of us are not tempted to murder or to even think about murder, although we might occasionally say so in jest. But anger? Anger can come quite easily. Are we ever angry enough to wish another harm? What about nurturing feelings of resentment? There is a saying that resentment is like taking poison and expecting the other person to die. It doesn't hurt the other person. It only hurts us. May our thoughts always convey love. My daughter was taking an online exam this morning. I told her I thought about bringing her favorite vanilla latte in to her but decided it would probably be best not to interrupt. She agreed but thanked me warmly. She felt the love in the thought. Jesus always wants what is best for us, our happiness. He therefore warns against all that would harm us —- including our thoughts. We have to watch those feelings, those thoughts and keep them all "captive to obey Christ" (2 Corinthians 10:5).
Ponder:
Do I keep every thought captive to Christ? Do I guard my thoughts as well as my words?
Pray:
Oh Lord, may I always remember that I am accountable for my thoughts as well as my words. Please purify my every thought.
---
Copyright 2019 Rosemary Bogdan Receive CatholicMom.com newsletters in your inbox, including the Daily Gospel Reflection each morning!

*

indicates required
About the Author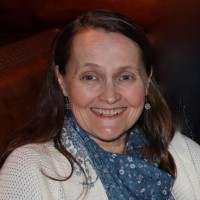 Rosemary Bogdan is a wife, mother of six adult children, and a grandmother. She homeschooled her children when they were young and currently substitute teaches at her favorite Catholic school. When not spending time with her family, Rosemary writes at A Catholic Mother's Thoughts and Catholic365.com.