Receive Daily Gospel Reflections in your inbox
Today's Gospel: Mark 1:14-20 John has been arrested -- basically decreased, as he himself put it -- and Jesus' ministry is up and running, increasing as we might say. All is as it should be at this point. The "time of fulfillment" is here. So now Jesus needed to start His training as well and choose His trainees. He chose fishermen, working for a living to feed their families. Ordinary men doing ordinary things with ordinary lives to do the extraordinary ministry. As He came upon these fishermen, He called them, and they followed Him. Biblically, they asked no questions, didn't hesitated, and without a thought of what will be, they dropped their lives and followed into the unknown. No questions asked. I cannot even imaging doing this today. A person coming up to me and saying come with me, abandon your husband, children and grandchild and take up my training to be a fisher of men for my purpose...which you don't know about yet. What a daring decision made in a split second, not looking back. Mark doesn't tell us the inside scoop, if you will, about the thought process that each man went through. I will tell you, however, some days it feels like I am spinning my wheels and going nowhere with my faith. Not sharing it enough, not giving enough, and wondering what I should really be doing. Some of my conversations with our Lord are "Please tell me what you want me to be doing with my life." Instead of a note that floats down from on high, I am instructed to just listen. So, I keep listening, and listening … and I'm listening still.
Ponder:
Are you listening? Do you hear His call? Do you feel like you are doing what God has called you to do?
Pray:
Lord, here I am, Your servant is listening. I wish to serve others under Your guidance. Thank You for my faith in You and Your love and care for me and those around me. I ask this through Your name, Jesus Christ, our Lord. Amen.
---
Copyright 2020 Ebeth Weidner Receive CatholicMom.com newsletters in your inbox, including the Daily Gospel Reflection each morning!

*

indicates required
About the Author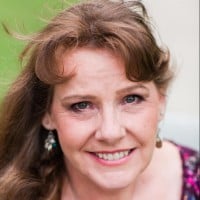 Ebeth Weidner, a Master Catechist and cradle Catholic who considers herself a Catholic information junkie, writes from her heart about the faith and hope she finds in the Catholic Church. She is the author of "A Catholic Mom Climbing the Pillars" blog. She is the wife of a research science Professor and mom to 3 great young adults people living on the coastal side of North Carolina.