Receive Daily Gospel Reflections in your inbox
Today's Gospel: Matthew 28:1-10 - - Holy Saturday, at the Easter Vigil "Then they went away quickly from the tomb, fearful yet overjoyed, and ran to announce this to his disciples." - Matthew 28:8 Fear is mentioned several times in this gospel passage. The angel said - "Do not be afraid." The guards were shaken with fear of Him. The disciples were fearful but overjoyed. And Jesus said, "Do not be afraid." Fearful but overjoyed is the phrase that really got my attention. Fearful but overjoyed. How do both of those feelings happen at the same time? When the women experienced the resurrection, everything began to change for them. Their eyes and hearts were opened. They no longer felt abandoned or alone. And they knew their lives would never be the same. I am a convert to the Catholic faith. I had no intention of converting when I married my Catholic husband. But after having 2 children, and baptizing them in the Church, I began to attend Mass. In the middle of Mass one Sunday, I knew it was what I wanted to do. It was what I was called to do. I was somewhat afraid, but also filled with joy. An encounter with the risen Christ changes everything for us. This change may frighten us. But, once we experience His presence in our lives, our eyes and hearts are opened. And we are made new. And not only do we give witness, but we do so with great joy. We can't help it.
Ponder:
Have you experienced fear and joy at the same time when experiencing Jesus' presence in your life?
Pray:
Dear Lord, help us to know when and how to witness to Your presence in our lives. Please calm our fears and help us to share our joy with others. Amen.
---
Copyright 2020 Colleen Spiro Receive CatholicMom.com newsletters in your inbox, including the Daily Gospel Reflection each morning!

*

indicates required
About the Author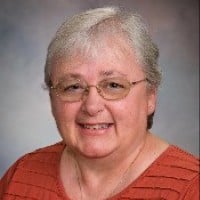 Colleen Spiro is a Catholic mother, grandmother and a deacon's wife. A certified spiritual director, Colleen loves to share her faith and encourage others through her retreats and writings. You can read her reflections at her website, Catholic Prayer Life.