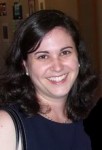 I'm pleased to share the following interview with Nancy Carabio Belanger, author of our January 2009 CatholicMom.com Children's Book Club selection, Olivia and the Little Way.
Please briefly introduce yourself and your family.
My name is Nancy Carabio Belanger. I am a wife, mother of two boys, and a freelance copy editor living in Michigan. I graduated from Michigan State University with a degree in English and journalism secondary education. I've been Catholic all my life and went to Catholic school growing up.
Please briefly summarize the book for those who have not yet read it.
Olivia and the Little Way is my first book. It tells the story of Olivia, a ten-year-old girl, who is having trouble fitting in with the kids at her new Catholic school in the fifth grade. Her grandmother introduces her to St. Therese of Lisieux and her Little Way of serving God. St. Therese ends up becoming Olivia's best friend.
How did you come up with the idea for the book and what prompted you to write it?
I have a very great love for and devotion to the Little Flower. I felt little nudges from her and from God to write this book. I wanted to provide a wholesome, entertaining story for preteen children that they could learn from as well. Modern Catholic fiction is a genre that is almost nonexistent today, which is so sad and such a disservice to the future generation of our Church. My goal is to provide this for them.
Do you have a special devotion to St. Therese and can you share about that?
I believe without a doubt, that, by the time I felt an attraction to St. Therese, she'd already been praying for me for quite a while. I felt unexplainably called to see the movie "Therese" when it came out. I left the theater with a strong sense of her presence. I knew at that moment that I had found someone special to me. When I read her autobiography, I felt such a close connection with her. And I notice that when she wants something done, she makes it happen. That's exactly what happened with this book; she interceded for me in so many powerful ways. The whole time I was writing it, I felt her working through my fingers at the keyboard. My illustrator, Sandy Casali LewAllen, felt the exact same way as she sketched her beautiful drawings. We felt Therese's and God's blessing the entire time. Her drawings are so heartfelt and warm; they add so much emotion to the book. Sandy's talent for capturing Olivia and her friends is amazing. I am so lucky that she, as a busy art teacher, said "yes"!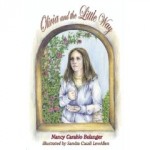 Although your book is targeted at school age children, I feel like it has a very broad appeal - including being a book mothers would enjoy sharing and reading along with their kids. What type of a response have you had to the book from readers?
Oh my gosh, the response has been overwhelmingly positive. Sometimes I feel like it's all a dream, the way children have loved this book from start to finish. And when they tell me that, that they can relate to Olivia and her problems, and that they have started to love St. Therese too, that just makes me melt. I've had all ages tell me that they are enjoying the book: from grandmas down to second graders. I think any age can get something out of it, or even have the book take them back to when they were Olivia's age, trying to fit in. Also, I think we all remember those awkward years in school, trying to fit in with the "in" crowd. It's a hard age. Sometimes I think about the "in" crowd now and I laugh. They're moms like me in jeans at the grocery store and pediatrician's office. But at the time, it was so very important, you know?
I've had lots of parents tell me they are reading the book out loud to their families at night before bed, and teachers have been reading it to their students. I couldn't be happier that St. Therese's message of loving and serving God is being taught to people through my little book. What a blessing.
As a mother, how did you accomplish the task of writing and publishing your book? Any time management tips you can share or thoughts on how to overcome feeling overwhelmed during the writing process?
It's funny, but being overwhelmed happens to me frequently, but not with this book, and that shocked me. I think that's one of the first signs for me that God was really, truly in charge of this project. Whenever I'd start to feel that way, or have an inkling of writer's block, I'd pray on it, and then I'd be at the keyboard writing three chapters that just flowed. I cannot state enough how much God and Therese were doing this through me and Sandy. My biggest time off from the book lasted less than two months, during which time I just prayed and waited. I knew that if God wanted it to turn out, it would. I tried to be patient, and then one day everything just came together and I never stopped after that.
A large chunk of the book was written over the summer when the boys were home from school, which was a little more challenging than when they were in school, but they were so good about letting Mom write when inspiration hit. Sometimes they'd peer over my shoulder and help me keep Olivia real. My oldest son had just finished fifth grade at the time, and it was all fresh in his memory, so he was quite helpful. And my youngest told me he wants me to keep on writing! I think mom writers have to do what works best for them, and not feel discouraged even though it is tough sometimes. I just kept telling myself, if God wants this to happen, He'll find a way to make it happen.
Do you have any new projects in the works?
Right now I am focusing on marketing Olivia and the Little Way and brainstorming for my next book. I am trying my hardest to get the word out about this book and to get it into the hands of children everywhere. The book has already begun its second print run, which is a true blessing!
Are there any additional thoughts or comments you'd like to share?
Olivia's grandma plays such an important role in this book, and I think it's perfect because grandparents are a tangible link to the past. It is so much more meaningful to hear their stories in person than in a bland history book somewhere as historical facts. Olivia and her grandma have such a close relationship, which facilitates Olivia's and the reader's understanding of St. Therese's spirituality.
I think what makes St. Therese so appealing to children is her belief in being childlike, her very littleness. And kids are so bombarded with messages from the secular world that are not healthy. That's all the more reason why they should turn to the saints for help. St. Therese is such a good, moral example for children to follow. Therese taught us that God loves us all, even with our many imperfections, and that making little sacrifices is something anybody can do, young or old. A smile for someone you don't' want to smile at, a helping hand when you're just not in the mood. These little sacrifices please God very much. Therese is so sweet, but she's also powerful: She will listen to you and love you and take your concerns to God and send you a shower of roses.
For more information, please see my website at www.littleflowerbook.com. I also have a blog for the book at www.nancybelanger.blogspot.com.
To purchase Olivia and the Little Way online and support CatholicMom.com, click on any of the underlined title links in this interview. Thank you for your support!


About the Author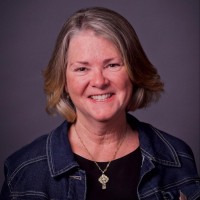 Lisa M. Hendey is the founder of CatholicMom.com, a bestselling author and an international speaker. A frequent radio and television guest, Hendey travels internationally giving workshops on faith, family, and communications. Visit Lisa at LisaHendey.com or on social media @LisaHendey for information on her speaking schedule or to invite her to visit your group, parish, school or organization. Visit Lisa's author page on Amazon.com.