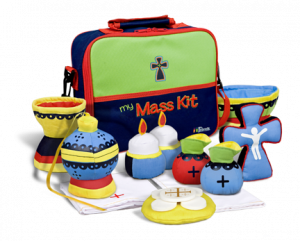 Recently, I was lucky enough to review the Wee Believers Mass Kit from the newly created Catholic company. I was so impressed by the product that I ordered one for my nephews Evan and Tyler.
I had the opportunity to review this wonderful product firsthand and am so happy to share with you my love for the Kit. First off, I almost hate to call this a toy because it truly is a high quality teaching tool. Intended for little hands, the Kit includes twelve plush, cleanable pieces and a detailed instructional booklet contained in a durable, canvas case. Crucifix, Chalice, Thurible, Finger Bowl, 2 Cruets, 2 Candles, Paten (cotton/polyester blend), Corporal & Purificator (cotton cloth), and play Hosts (foam).


The construction of this product is incredibly high quality. The carrying case is larger than a lunchbox, but the perfect size to carry to Mass and other special places and is divided into net compartments that store each of the Kit's pieces. Inside the Kit, along with the pieces is a small full color book that gives complete instructions for the product and an overview of each of the items.
The product bears the Ecclesiastical Approval of the Reverend Monsignor Joseph F. Schaedel, Vicar General of the Archdiocese of Indianapolis. Priest who have viewed and endorsed the My Mass Kit are reminded of their own childhood spent "playing priest" and view the toy as a potential tool to foster vocations.
In the booklet, Wee Believer's priest "Father Juan Pablo" shares, "When I was a young boy, I too pretended. It was then that the Holy Spirit lit a fire in my heart for the priesthood."
The My Mass Kit is not an inexpensive toy. Priced at $85, this is indeed a tool you will purchase to aid you in the religious formation of your family. I also hope that parishes will consider purchasing the Kit for use in their religious education departments. Since you will be making an investment in your child's spiritual enrichment, you'll want to encourage him to treat this tool with reverence and respect. The product is constructed to last generations and would be a wonderful gift for any family. I look forward to sharing a My Mass Kit with my nephews and godsons and opening their hearts even more to the beauty of the Mass.
For more information on My Mass Kit visit www.weebelievers.com.
I'm pleased to share the following interview with Wee Believers co-founder Joni Abdalla: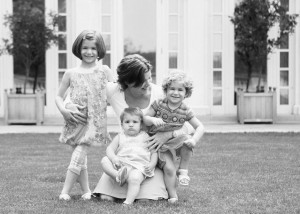 Please briefly introduce yourself and your family to our readers.
My name is Joni Smith Abdalla. I was born and raised in Indianapolis, Indiana and am the youngest of 7 children. My parents have always incorporated their strong Catholic faith in to our every day lives. We knew to draw from our faith during challenging times and to acknowledge God's faithfulness during joyful moments. Just because I was raised in the faith does not mean that I have not questioned or challenged my own beliefs. In fact, I believe that it is during times of personal challenge that you grow, individually, more in love with the Catholic faith.
I met my husband, Steve, while we were both living in the Washington D.C. area. I was working for a non-profit organization called Family of the Americas, teaching a natural method of family planning and strengthening the family. Steve was working for a deep ocean exploration company. We met at a function called Theology on Tap. We have been married for 6 1/2 years and have 3 little girls--Emma 5 1/2, Ruthie 3 1/2 and Vivian 2. These little bundles keep us very busy and definitely make life more beautiful.
What prompted you to begin Wee Believers and what are your goals for the company?
Our children are what prompted us to begin Wee Believers. While at holy Mass, we were frustrated with the lack of religious or Mass related things to keep our little ones quiet and busy. We wanted to develop toys that were faith related so that little children could actually be focused on the Catholic faith during times that require them to be quiet and reverent. Our goal is to continue to produce high quality, faith building and enriching toys and other products.
Please tell us a bit about your first product, My Mass Kit.

Our first product, My Mass Kit, is a wonderful and well made toy developed to teach children about the Holy Sacrifice of the Mass. It is respectful, yet playful. We want children to be easily able to distinguish between these toy Mass pieces, which they can touch and feel, and the blessed Mass pieces which they cannot. Children learn by imitating. Children play teacher, firefighter, dancer, chef, etc. Why not give them the tools to play Priest? In doing so, we pray that the Holy Spirit may use this to light a fire in the hearts of young boys and draw them to the holy Priesthood. Several priests, and even bishops, have mentioned to us that it was "playing Mass" as little boys that really began their journey to the holy Priesthood. We are humbled and honored to think that this toy could be used in such a powerful way.
What type of responses have you received from teachers and families about the Mass Kit?
We have been overwhelmed by the positive feedback and excitement from faith educators and families. There have been several cute stories of families whose homes have been turned in to virtual churches with several "Masses" being said every day. It is the stories like these that we receive that make us hopeful that children will grow deeper in the knowledge and love of the Catholic faith. It is also very humbling and exciting that future priests may one day say that this toy helped foster their vocation.
Do you have any special tips for parents on how to keep My Mass Kit reserved for reverent play?
We would recommend keeping My Mass Kit in a special place, separate from the other toys. Maybe even put it in a place out of reach, so that the children have to ask to use it. The instruction booklet is a wonderful vehicle of faith communication between parents and children. Parents can even quiz their children on the proper names of the different items in the kit. I am sure that Mom or Dad will sometimes even be asked to participate as an occasional lector or choir member. When play is finished, I would make sure that the pieces are placed back in the case.
What future plans do you have for Wee Believers?
The future of Wee Believers is an exciting one. We have so many ideas for faith related products. Our next couple of products are really fun. One of our next toys is My Quiet Church, which is a cloth Catholic Church. This toy will help children learn to identify the proper names of the things they see inside a Catholic church. My Quiet Church will also come with our character dolls. We then hope to have sacrament accessory kits with the church so that children can pretend to have First Holy Communions, Baptisms, Weddings, etc. We pray that we are able to continue on this journey for as long as we are called.
Are there any additional thoughts or comments you would like to share with our readers?

We are grateful for all of the support and feedback we are receiving. As a new startup company in a challenging economy, we are blessed to be able to continue, and hope to provide high-quality and faith enriching products for years to come.
For more information on My Mass Kit visit www.weebelievers.com.
About the Author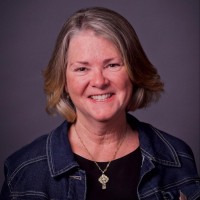 Lisa M. Hendey is the founder of CatholicMom.com, a bestselling author and an international speaker. A frequent radio and television guest, Hendey travels internationally giving workshops on faith, family, and communications. Visit Lisa at LisaHendey.com or on social media @LisaHendey for information on her speaking schedule or to invite her to visit your group, parish, school or organization. Visit Lisa's author page on Amazon.com.