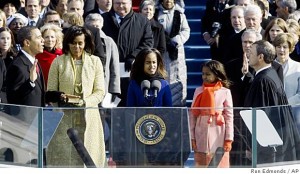 My viewing of today's Inaugural events took place in fits and starts - the way many moms viewed these historic moments, I'm sure. I listened and watched during the moments leading up to the swearing in of President Obama while packing lunches, chauffeuring kids to school, and finally at the Cancer Center before and after today's radiation appointment.
When my treatment was over, I basically ran to my car and bolted for my home to view the actual swearing in and inaugural address from the comfort of my own big screen television, tissues in hand. Politics aside, today is a moment we will all remember - a moment for healing past hurts and coming together as one to be better, stronger than we can be individually.
I loved watching the Obama family during today's event. It moves me to see Michelle Obama mothering her adorable daughters and watching her husband with such a sense of pride. Wouldn't any of us, watching our spouse at such an amazing moment, be moved beyond measure by the anticipation of our partnership with one on whom so many are counting and placing their hopes? I'd love to sit down to coffee one day with Mrs. Obama (and Mrs. Bush too, while I'm making a wish list!).
The part of today's speech that moved me the most was President Obama's call to action for each of us:
For as much as government can do and must do, it is ultimately the faith and determination of the American people upon which this nation relies. It is the kindness to take in a stranger when the levees break, the selflessness of workers who would rather cut their hours than see a friend lose their job which sees us through our darkest hours. It is the firefighter's courage to storm a stairway filled with smoke, but also a parent's willingness to nurture a child, that finally decides our fate.

Our challenges may be new. The instruments with which we meet them may be new. But those values upon which our success depends -- hard work and honesty, courage and fair play, tolerance and curiosity, loyalty and patriotism -- these things are old. These things are true. They have been the quiet force of progress throughout our history. What is demanded then is a return to these truths. What is required of us now is a new era of responsibility -- a recognition, on the part of every American, that we have duties to ourselves, our nation and the world; duties that we do not grudgingly accept but rather seize gladly, firm in the knowledge that there is nothing so satisfying to the spirit, so defining of our character, than giving our all to a difficult task.

This is the price and the promise of citizenship.

This is the source of our confidence -- the knowledge that God calls on us to shape an uncertain destiny.
I truly want to take up this call and look in my own life and in our family's life at how we can look outside of ourselves and truly serve others to answer this call. Our response may more mimic St. Therese's "little way" than a fireman's heroics, but will hopefully be none less heartfelt. As we stand at this open doorway in time, I hope we can all put past separations behind us and move forward in love and caring.
As I had my radiation treatment today, my prayers on the table (which has, by the way, turned into a wonderful time of quiet intercession) were for President Obama and his family. I hope he can be guided by his faith and God's wisdom to make right, moral decisions. I hope he will be safe and that his family will be happy in their new home. I hope that we, as a nation, can bottle the optimism many of us feel today and put it to work with real change that will ultimately lift us all, including the most needy and those unborn citizens of our country, to a better life.
Today, I will look for my answers to President Obama's call, in my own little corner of the world.


About the Author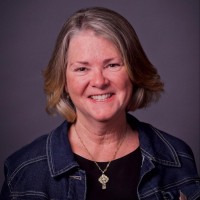 Lisa M. Hendey is the founder of CatholicMom.com, a bestselling author and an international speaker. A frequent radio and television guest, Hendey travels internationally giving workshops on faith, family, and communications. Visit Lisa at LisaHendey.com or on social media @LisaHendey for information on her speaking schedule or to invite her to visit your group, parish, school or organization. Visit Lisa's author page on Amazon.com.