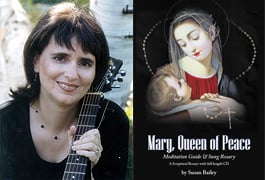 On this week's podcast, we highlight the lovely Mary, Queen of Peace Meditation Guide & Sung Rosary project by Susan Bailey. The Sung Rosary is a beautiful 6" x 9" 48-page full color book which includes a totally sung rosary on CD. The book contains scripture verses for each Hail Mary, sheet music for the sung prayers, and beautiful icons, paintings and stained glass windows to aid in your meditation.
[podcast]http://media.libsyn.com/media/catholicmoments/cm088.mp3[/podcast]
This month, our CatholicMom.com Book Club selection is The How-To Book of the Mass: Everything You Need to Know but No One Ever Taught You

by Michael Dubruiel. Your purchase of this book will help to support the family of the author, who died suddenly on February 3, 2009.
Deacon Tom Fox shares an online reflection entitled "Spiritual Grandparenting" and invites us to look at our our homes reflect our Catholic faith.
Share your feedback at 206-339-9272, comment here on the blog or email lisa@catholicmom.com.
Links for this Episode:
About the Author