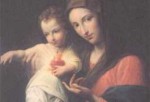 On this week's podcast, we receive financial encouragement and advice from Catholic founder of Veritas Financial Ministries Phil Lenahan, author of 7 Steps to Becoming Financially Free: A Catholic Guide to Managing Your Money

.
[podcast]http://media.libsyn.com/media/catholicmoments/cm089.mp3[/podcast]
This month, our CatholicMom.com Book Club selection is The How-To Book of the Mass: Everything You Need to Know but No One Ever Taught You

by Michael Dubruiel. Your purchase of this book will help to support the family of the author, who died suddenly on February 3, 2009.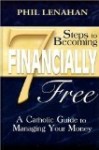 Deacon Tom Fox shares an online reflection entitled inviting us to a renewed devotion to the Sacred Heart of Jesus.
Share your feedback at 206-339-9272, comment here on the blog or email lisa@catholicmom.com.
Links for this Episode:
Phil Lenahan's books:
Michael Dubruiel's book - The How-To Book of the Mass

Our Sunday Visitor - Our Sunday Visitor will double what would have been Michael's proceeds from book sales on all of his OSV books through the month of February
About the Author