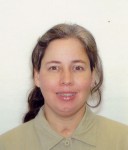 When my parents came to visit, they rented a car and brought with them, a GPS. I had never used a GPS before and found the constant instructions to do this or turn right or turn left frustrating. I didn't want to listen. So naturally, coming home from the hospital where my youngest son was being treated, I got lost. The GPS tried to help, but privately I had decided I would dead reckon my way home. I got lost again. Eventually, I surrendered and followed the darn directions which got me to the interstate. It was funny and a teachable moment, as I had to recognize my poor sense of direction and submit to the wishes of the GPS. Obedience to a machine for was hard.
Obedience to the One who loves us, ought to be easy. It ought to be our standard response, but we are fallen creatures. We ignore, we put off, we refuse. We tell ourselves that we do not know what to do, or that what we do is okay really. We do not as Mary instructs, "Do what He tells us to do."
Learning to hear God's instructions in the everyday requires that one pray daily. If I wanted to push the metaphor, I'd say that prayers are like directions and a map. They lead us to God, they lead us to ourselves, to the broken places that need to be transformed by God's tender mercy and healing love. But to me, prayers are more like water to the plants of the desert. We have touches of green, of life, of beauty, all thirsting to be more like God. Our sin is like the sand and the heat and the wasted spaces in between.
Learning to act on God's instruction in the everyday requires humility. We must serve, serve well, and serve constantly. We must not look at the tasks of the day as a list to check off, but as a wealth of opportunity to become transparent, to be a glass pane through which God's light shines. Locked in every act for others is the opportunity to serve God, to minister to Christ in disguise. It is how we do these little things that determine if we serve the world or Christ.
Learning to love God's instruction requires obedience. And here's where most of us start to get stuck, because we get tired, we get distracted by whatever it is that distracts us, and thus we falter or fail to be that piece of glass or to be open to the water in the desert. It is in these moments that we get lost. We do not wish to listen to God's directions, but thankfully, God never stops whispering to us, never stops calling out directions. When we finally get tired of getting lost and going in circles, if we submit to His will, then He will lead us home.
Copyright 2009 Sherry Antonetti
About the Author

Sherry Antonetti is a mother of ten children, published author of The Book of Helen and a freelance writer of humor and family life columns. You can read additional pieces from her blog, http://sherryantonettiwrites.blogspot.com.