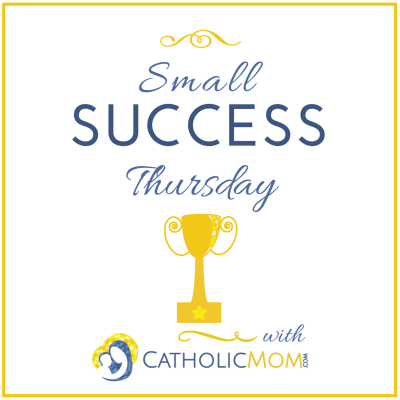 This week my six-year-old started summer school, and two of the kids started band camp. I'm still in my own bootcamp, trying to crank out 1,ooo words a day without driving my kids crazy, and my oldest is tagging me daily to work out. (Last week I made it 4 times a week--goal for this week? Repeat or improve). I have my Magnificat for July, and I'm trying to read it daily, and to listen to podcasts when I exercise, and read a bit before bed. The goal, my priest friend told me, is to keep proper focus. What is the priority of the moment? Should it be the kids? Then put away the writing. Should it be the home/errands/domestic life? Then turn off the computer. Is it Sherry time? Then don't spend it distracted by the internet. You get the theme. The result: a fuller summer, and a happier, healthier me.
Small successes sometimes are the result of having had enough. Like stepping on the scale and saying, "No more..." or deciding it's time for confession or the house needs a good cleaning.
Today, I informed the children, that while they are in school, I have no problem maintaining the house and patrolling all their rooms. However, when they are not in school, there are eight more hours of the day where they can manage their rooms on their own. We held a family meeting and assigned chores and wrote them on the white board. I wonder why I sometimes forget this simple tool of parenting and take on too much or get mad because no one else is pulling their weight. It's because I forget to insist they do so. It is a habit of mine, (a stupid one to be sure), a form of spiritual pride that encourages their physical sloth.
The result of having chores? I had more time and energy at the end of the day so we reestablished bedtime routine; the house looked better because it wasn't one person's efforts until she quit; and the younger children (4 and 6) complained they didn't have chores until I gave them. They high-fived each other after cleaning the table. I know it's only one day's example, but I'll take it. We'll keep at it tomorrow, with the prayers and the workouts and the limits on the machines, and the chores, and maybe cumulatively, we'll all find ourselves more fit, spiritually, physically and mentally, by the end of the summer.
Hope this week was filled with small successes!
[inlinkz_linkup id=543589 mode=1]
Copyright 2015 Sherry Antonetti
About the Author

Sherry Antonetti is a mother of ten children, published author of The Book of Helen and a freelance writer of humor and family life columns. You can read additional pieces from her blog, http://sherryantonettiwrites.blogspot.com.