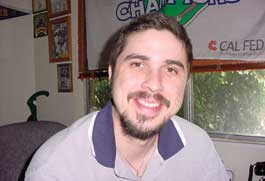 Jerry Weber is a California and San Diego County native. Jerry is a former liberal who spent most of his teenage years mixed up with drugs and a very dysfunctional home life. Feeling called by God to turn his life around at 17, Jerry -- a lifelong Catholic -- found himself attending Mass and graduating high school a semester early. Now at age 31 Jerry has grown into a proud Catholic with more Conservative values than he would have ever imagined. Struggling to be a better Catholic, on top of dealing with anxiety and depression issues, Jerry shares his story on how God and the Church have and will continue to transform his life, how dealing with an anxiety disorder has affected his spiritual life, and how others can learn from his story.
[podcast]http://media.libsyn.com/media/catholicmoments/cm107.mp3[/podcast]
Deacon Tom Fox closes out this month's series on marriage with a reflection entitled "Marriage is a Partner Ship". Be sure to download Deacon Tom's Marriage Repair and Enhancement Resources document today - it is filled with wonderful suggestions, book recommendations and a Marriage Sharing and Discussion Tool. This month, Deacon Tom is sponsoring a contest - your chance to win one of four great Catholic marriage books. To enter, visit SQPN.com and leave a comment on any of the June episodes of the Catholic Moments Podcast by June 30, 2009. Four winners will be randomly drawn to receive one book apiece.
Sarah Reinhard invites this week to hold the hand of our Blessed Mother Mary. Take a look at Mother Teresa: In the Shadow of Our Lady

recommended by Sarah this week in her reflection.
The Catholic New Media Celebration is being held June 27, 2009. We want to thank our sponsors:
For those who are unable to attend the conference, the entire program will be streamed online via the SQPN Live Ustream Channel. Tune in throughout the day to hear talks by Fr. Dave Dwyer, Patrick Madrid and many other podcasters and bloggers, as well as a concert by Sarah Bauer. Program details and times can be found here.
Share your feedback at 206-339-9272, comment here on the blog or email lisa@catholicmom.com.
Links for this Episode:
About the Author