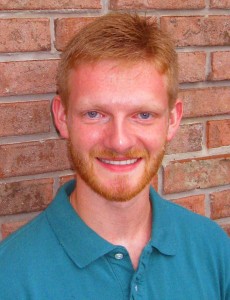 I'm very happy to share the following conversation with John Paul Rudolph. You may remember John Paul for his participation in the fabulous Catholic music group Cousins in Christ or his recent interview with me on Catholic Moments Podcast Episode #19. During this conversation, John Paul shares with us about his work with FOCUS (Fellowship of Catholic University Students).
Please introduce yourself and your family to our readers.

Greetings to all Catholic moms! You do a tremendous service to our Church and to your children through your selfless service. Like our Blessed Mother, who spent her whole life in silent service in the shadow of her Son; the future Church will owe so much to the unseen love and guidance you provide to my generation and the generations to come. As a young adult, I am only beginning to realize and appreciate the generosity and love my mother poured out on me all these years. And as St. Monica prayer her son St. Augustine back to the Church, I know that the prayers of my mother and grandmother will continue to give me the strength to seek and serve our Lord.
My name is John Paul Rudolph and I am the eldest of 6 boys, born and raised in central Illinois. Being an all male household, save my mom, I am sure that there is already a special place in heaven for her. Growing up with all brothers is an exciting experience, and we were blessed with having strong, supportive Catholic parents who helped us take on our Catholic identity as our own. You may remember my family from earlier interviews or articles – my mom heads up our family ministry: Rose of Sharon Media. Our ministry has produced 5 CDs and multiple videos which have been featured on EWTN. You can learn more about our family ministry and our music at www.roseofsharonmedia.com and www.johnpaulrudolph.com.



Can you fill us in on what's been happening in your life recently?
The Lord continues to bless me with His unpredictability. Last time I spoke with you, I believe I was half-way through graduate school and had just released Reflections, my solo album. I was in a very exciting time in my life with so many opportunities ahead of me. The Lord had blessed me academically, and I was preparing to become one of the youngest individuals to receive an MBA from the University of Illinois (at age 22). In addition, He had blessed me throughout graduate school with a great Catholic community and potential job opportunities at multiple Fortune 500 companies after graduation. I had the next few years planned out in my head, and it wasn't until only a few months before graduation that the Lord threw me a curve ball.
One day, while talking over our future plans and opportunities, one of my friends casually challenged me to re-examine my career plans. I had planned on starting a professional career, a family, and serving the Church in my spare time and after retirement; and it seemed with the educational opportunities the Lord had put in front of me, that this was His will. However, after listening to my friend, I decided to pursue opportunities in direct service of the Church.
Over my college and graduate school years, I had been in contact with FOCUS (Fellowship of Catholic University Students). However, I was always very busy academically, was working part-time, and was involved in other Catholic groups as well as our family ministry. I was friends with FOCUS missionaries at both Bradley and University of Illinois who directed me to the Executive Vice President of FOCUS who offered me a position in Denver.
It was the hardest decision of my life! I had taken out lots of loans to get through graduate school, and I would be passing up very good jobs to take this position which required me to fundraise my salary. I was nervous about how this would affect my ability to support a family someday, the effect it would have on my career and that I would have to move 1,000 miles away instead of taking one of the other jobs in Illinois, closer to my friends and family. However, after much prayer and reflection, I put my total trust in the Lord and accepted the position.
After working at FOCUS this past year, I am again amazed at how the Lord has blessed me. He put me in a position where I could leverage my MBA education and my faith; the perfect match.
Please tell us about the mission of FOCUS.
Rooted in John Paul II's call for a "New Evangelization," FOCUS, The Fellowship of Catholic University Students, is a national outreach that takes recent college graduates (such as myself), trains us, and sends us out in teams to college campuses to introduce students to the love of Jesus Christ and His Catholic Church. We meet these students where they are at in their walk of faith and invite them to examine the meaning and purpose of their lives.
Since 1998, FOCUS has grown to over 250 staff who will serve this coming academic year on nearly 50 campuses in the United States. FOCUS has fostered over 188 vocations to the Priesthood and Religious life, 44 of which were this past year alone.
FOCUS missionaries reach students by winning them over through genuine friendships, building up their personal relationship Jesus Christ and their knowledge of the Catholic faith, and then sending them out to evangelize their peers. We host events, conferences and retreats that foster relationships and provide social and spiritual growth opportunities. We facilitate small group discussion and bible studies to aid students in understanding and applying Sacred Scripture and other Catholic teaching to their everyday lives. Lastly, we personally invest in the lives of our students through one-on-one mentoring in order to model Christ's love and guidance; teaching them how to live their faith in the midst of life's everyday demands and distractions.
You can find more information on our work at: www.focusonline.org.
What prompted you to become involved with FOCUS and what have you gained from this affiliation?

There were multiple reasons why I choose FOCUS; but I believe the most significant reason was that I had spent the previous 5 years in school and I saw first-hand the need for FOCUS on our campuses.
When I speak about the need for FOCUS, I share some of the scary statistics about declining mass attendance, sexual promiscuity, rape, abortion, depression, cutting, and other struggles on campus. Most college students fit into at least one of these statistics before they graduate. However, in the end, these are just numbers, and numbers are impersonal; except that I have friends who fit into each of these statistics. I remember their struggles vividly, and have seen the effect it has had had on them years afterwards. I don't see numbers, I see faces; the faces of people I love.
When I look at the 16 million college students in the US, I see my peers, my friends, my future coworkers, the future teachers of our children, the future politicians who will be shaping the world, the future priests and religious who will help pass on the faith; I see the future of our Church. College is that critical time where my peers set habits and make major decisions which affect the rest of their lives. And it seems that this is the time where as a Church, we are least present in their lives.
FOCUS offers college students what they need most - a community of Christ-centered peers. And almost as important, FOCUS offers students our missionaries; who just graduated, who recently experienced the struggles of college life, and who can help to guide them through one of the most important and formative times in their lives.
Beyond anything else, working for FOCUS has opened my eyes wider to the need for Christ in my life and the lives of my peers. Every day I see the struggles they face, and celebrate their lives changed by the work that we do. Through FOCUS, I have a front-row seat to see lives transformed through the loving power of our Lord.
How can Catholic families support FOCUS?
Your support is vital in helping us reach thousands of college students each year. Above all, please pray for FOCUS, all of our missionaries, and all of the students we serve. It is only through the power of the many prayers of our supporters that we are able to serve.
Also, prayerfully consider financially partnering with us in our mission. Each missionary (like me) depends entirely on the generosity of others to support us in our work. Through partnering with us, you "go by giving" and we "give by going". The benefits of adopting a FOCUS missionary are: (1) the Lord's generosity; He richly blesses both the missionary and the Mission Partner (you); (2) it gives you a front-row seat to see the Lord transforming lives; (3) we keeps you up to date with our work through regular newsletter and other correspondence; and (4) we pray for you, your loved ones and your intentions in our daily mass, rosary and holy hour.
Lastly, our goal is to have missionary teams on over 100 campuses in the next 5 years, doubling the number of campuses we current serve. Please prayerfully consider supporting us on a national level to help us expand to new campuses and bring Christ to tens of thousands of additional college students.
Please visit www.focusonline.org/support for more information.
Are there any additional comments you'd like to share with our readers?
I would ask you to please keep me in your prayers as I continue to serve through FOCUS. Also, please contact me with any additional questions about FOCUS, any prayer intentions you may have, and or to support me in my work.
May our Lord abundantly bless you and your families!
For more information on FOCUS or to support John Paul in his missionary work, contact him by email at jrudolph@focusonline.org or via his missionary page at www.focusonline.org/8455
About the Author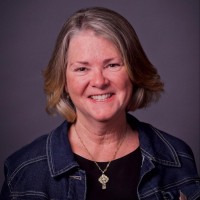 Lisa M. Hendey is the founder of CatholicMom.com, a bestselling author and an international speaker. A frequent radio and television guest, Hendey travels internationally giving workshops on faith, family, and communications. Visit Lisa at LisaHendey.com or on social media @LisaHendey for information on her speaking schedule or to invite her to visit your group, parish, school or organization. Visit Lisa's author page on Amazon.com.