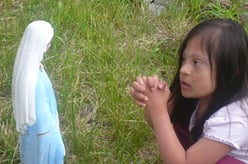 We have been dealing with the news that my mother has an operable tumor which is most likely malignant. It has been terrifying, yet moments of grace have kept us going. Like when I hear from friends and strangers who are praying for Mom, or the look of compassion on my pastor's face when I told him. He lost his mother a few months ago.
Yesterday God gave us another moment of grace.
I was outdoors with Christina, trying to absorb the gravity of the bad news I had just received by phone: the surgeon said that Mom's tumor was probably malignant. I was trying to move beyond the paralysis of fear and find the words to pray about it. I was to pray silently as I walked around the yard, finally sitting down on the stoop in the exhaustion of grief.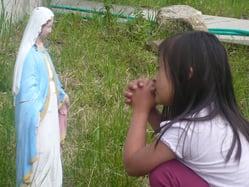 Christina got up, saying "Church", and walked over to the statue of Our Lady of Grace in front of the house. She patted the statue on the shoulder, then stepped back, crouched down and made the Sign of the Cross alone for the first time. Her little hands clasped tightly, she began to pray. For five minutes, Christina mentioned all of our family members, including my mother as we do in our nighttime prayers. Her little face was a model of concentration and at one point she closed her eyes. It was obvious that she was praying, not imitating our actions, since we pray indoors and typically at her bedside. She has never seen us pray in front of this particular statue of Our Lady.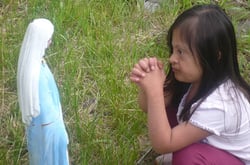 When Christina finished her prayers, she made the Sign of the Cross, and again reached out to touch the shoulder of the statue of Our Lady, and when she turned to leave, patted her head affectionately.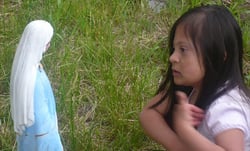 I immediately called Mom and Dad to tell them about the prayers of our little saint. They were moved and uplifted by this gesture of love and faith that was so unexpected.
When Christina was baptized, Fr McCartney said, "sometimes I think that people with Down syndrome feel sorry for us, because we can't see what they see". Yesterday, Christina proved that she could pray with words when her mother couldn't. I know God heard us both, but I can't help feeling that the prayers of such innocent children carry a special weight with He who asked the little children to come to Him.
May Our Lady and Jesus hear and answer her heartfelt prayers for "Gramma".
Copyright 2009 Leticia Velasquez
About the Author