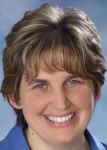 I am 13.
It's true. Though born in 1960, I started counting birthdays a little differently after my breast cancer diagnosis in 1996. Back then at 36 I had a wonderful husband and three young children, ages 9, 6, and 3. You can imagine the heartache we experienced as we considered all the possible outcomes of my situation. There were many months of waiting and wondering what would lie ahead.
Thousands of prayers were lifted on our family's behalf, both back then, and for the many check-up and tests I have had since then. And for that, I am most grateful. For it seems, for the last dozen years, the Lord's mercy has granted the prayer of this mother's heart: to finish the privileged task of raising my children through their teenaged years into adulthood.
So here I am. Still.
This week I passed my 13th anniversary of my last of three surgeries for breast cancer. And the beginning of, what in recent years I have more boldly called, "the Cure."
As I reflect on being here today, I'm finding that, even though I am squarely middle-aged chronologically, now "at 13", I feel that I am "rediscovering" what I loved best about Patty when she was that young woman-child of 13. Some of her best and most audacious qualities are reemerging and being rekindled in me.
Back in 1973, Patty was outgoing and a little bit sassy and rebellious, but not so much that she was a troubled teen. She was very much in love with life as she also grappled with a new life with Jesus. There was a new vitality emerging in her faith… just a year or so after the Sacrament of Confirmation. It slowly took root in her heart and grew, as all great loves do.
She was also an explorer and yearned to travel. She loved walking outdoors, especially, backpacking. She had a deep creative streak and was busy writing music and poetry. (Oh, you know, the kind that a young teen girl writes!)
She discovered books… and was developing a love of philosophy, (and theology, though she did not know what that was at the time.)
She wanted to do meaningful work. (Her first job was a paper-route. It taught her all about what she'd rather not "do" when she grew up.)
Until recently, I had forgotten much about Patty, my younger self. Naturally, one grows and changes through the years.
I was busy getting an education, and really, living a very wonderful life, (even if it does sound like a cliché.)
I married my college sweet heart. I worked in radio both as an on-air announcer and as a copywriter for advertising and programming. I directed a youth program at my church.
A few years later the vocation of motherhood was upon me, and I made that major transition to being in the home. I settled down and matured a lot during those stay-at-home years.
It was a much quieter lifestyle than my career, though it brought a new kind of busyness. I certainly didn't write much anymore, except in journals when I could find the time.
Motherhood taught me a lot about living one's life as a gift for someone else… What it means to give unselfishly, and to give without any thought of getting. And being very honest, those were hard lessons for me to learn, as I constantly tripped over my own self-centeredness. Patty the wanderlust had to learn how to be content in her own backyard.
Those years of intense and bustling family life taught me something that I never understood before: that in a heartbeat, I would gladly trade my life for my husband's or for one of my children.
Even so, when my breast cancer diagnosis came, I realized I had much more to learn.
I was profoundly convicted about what's most important: my faith in God, and my family.
For the first time in my life, standing toe to toe with my own mortality, I tangibly understood what it means to live in a deep "state of grace."
Living "the cure" has been something of a remarkable "come back", both physically and spiritually, from this disease.
When I was first diagnosed, I knew very few women in their 30s who suffered with breast cancer. And worse, the few I knew had died by age 40.
Despite my faith, and the fact that I was eventually diagnosed with an early stage breast cancer, I was spooked for quite some time.
Until I met Judi, a normally shy woman, who bravely walked up to me after Mass one day and introduced herself to me by telling me that she was a breast cancer survivor. Not only that, she was thriving.
Needless to say, we became friends. What's more, Judi was a writer. And when she learned about my own writing past, and how I wondered if I would ever "get back to it", she made a point of consistently encouraging me in that area. Judi was a book person, too; she loved Sacred Scripture and theology. We always had a lot to talk about.
I credit Judi with showing me what it means to carve out a meaningful life in spite of cancer. She lived with the kind of passion and faith that makes one live as if breast cancer is, merely, a bump in the road.
I watched and learned from her example.
Judi loved life innocently, and lustily, and as a Child of God should.
I had forgotten that.
The "abundant life" that Christ promises is available to us here and now, despite what our present circumstances look like. Jesus said: "The thief comes only to steal and kill and destroy; I came that they may have life, and have it abundantly." (John 10:10.)
As the post-cancer years mount for me, I understand more and more what Judi, and Jesus, meant.
In the past 13 years, I have had many other heartaches, and major health problems (unrelated to cancer), too.
But these days, I find a growing resiliency in me. Indeed, some of my more recent struggles have shown me that there's still quite a bit of young Patty left in me after all.
In fact, Patty is alive and well – that same girl who fell in love with Jesus as she was falling in love with life so many tender years ago.
Today, she is writing, she is reading, and she is walking. She is exploring again.
She recently earned her theology degree. She is doing meaningful work. And, rather surprisingly, she is even behind a microphone again.
In short, by the grace of God, she is doing it all, still in the company of her loving husband, and alongside her children who are, blessedly, now young adults.
So these days, please understand me when I say, that, when I go to Jesus in prayer, I feel, well… giddy as a teenager.
Blessed be the God and Father of our Lord Jesus Christ, the Father of mercies and God of all comfort, who comforts us in all our affliction, so that we may be able to comfort those who are in any affliction, with the comfort with which we ourselves are comforted by God. For as we share abundantly in Christ's sufferings, so through Christ we share abundantly in comfort too. (2 Cor. 1:3-5.)
©2009 Patricia W. Gohn
About the Author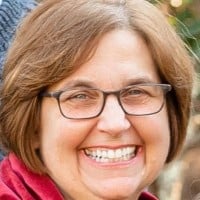 Pat Gohn is a married empty-nester with three adult children and four grandchildren. An author, catechist, speaker, and host of the Among Women podcast since 2009, her books include the award-winning Blessed, Beautiful, and Bodacious: Celebrating the Gift of Catholic Womanhood, and All In: Why Belonging to the Catholic Church Matters. She works in Catholic publishing as an editor. Visit PatGohn.net