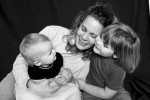 Most mornings find me cradling a cup of coffee and holding a rosary or a prayer book. I've tried praying at other spots in my house, but nothing seems to inspire the calm and quiet that my kitchen table does.
It's six feet long and scratched. It's made of long planks and there always seems to be some hard-to-reach dirt somewhere in the cracks and crevices.
It has a history, that table, and it seems to embrace me as I sit in one of the mismatched chairs in the early mornings.
My mother-in-law once told me the story of the table, and I sometimes find myself musing on it as I pray. As she tells it, the table was made in payment for work my husband's father had done on a man's car or tractor (I can't remember which). The work was almost done, money was tighter than ever, and the possibility of grocery money had to be looming large before her. Then the man came and said that he just didn't have the money, but that he could have a table made.
I've only known my mother-in-law for ten years, but I can just picture her response to this. Inside, she must have been enraged. Her kids needed fed! On the outside, though, she must have been the perfect picture of grace and composure. Maybe she mentioned how hard it was to fit her six kids -- two of them brawny teenage boys -- around their small kitchen table. Maybe she smiled, hiding her fuming in the way that people seem to have forgotten nowadays.
Our old farmhouse is the home for the old family table. It saw all of my husband's siblings through their teen years. It's the only table the younger ones ever knew.
My kids are adding their own embellishments to the table, though I have been impressed at how well it's made and how well it's holding up to their "love." Everything wipes right off, from paint to markers to spaghetti.
Some mornings, sitting at that old table, I find my wrist resting in a crumb of dinner or a pool of paint. Other mornings, my coffee and my prayer plans are left at the table as I deal with life's unexpected moments, from soothing a child back to sleep to making a forgotten lunch. Still other mornings find me finished early and opening a blank notebook, pen in hand, to try my hand at a habit nearly forgotten.
It seems right to begin my days in the kitchen, and not just because my coffeepot is there. Some days, the kitchen is headquarters for my life. Other days, it's a place I rush into and out of, headed in a flurry to other places and activities.
Those prayers -- at the kitchen table, at the start of my day -- remind me that I can't do any of it alone, whether it's a slow-in-theory day at home or a crazy-in-practice day of go-go-go.
Copyright 2009 Sarah Reinhard
About the Author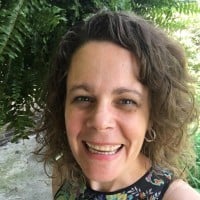 When she's not chasing kids, chugging coffee, or juggling work, Sarah Reinhard's usually trying to stay up read just one…more…chapter. She writes and works in the midst of rural farm life with little ones underfoot. She is part of the team for the award-winning Catholic Mom's Prayer Companion, as well as the author of a number of books. You can join her for a weekday take on Catholic life by subscribing to Three Shots and follow her writing at Snoring Scholar.