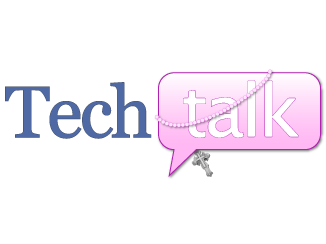 Today's Catholic Blogger is one of our regular contributors and, like many of our writers here at CatholicMom.com, Sarah Damm is a wife and mother. Sarah Damm has six children, ages 3 to 11, and hails from Minnesota.
She claims to have free time to knit, read, and enjoy coffee with a friend, but I've heard about the chauffeuring of kids, the running of errands, the cooking of meals, and the helping with homework. My guess is that she doesn't sleep. :)
You'll find Sarah blogging at "More Than Enough." And with that, I'll get on with the interview!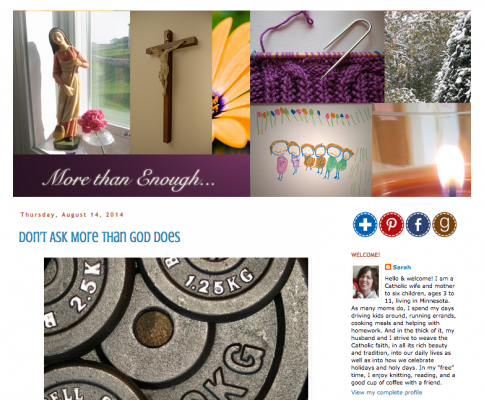 Tell us about your blog in five words or less.
Faith, family and real life.
Why did you start blogging?
Prior to becoming a mom in 2002, I did a lot of writing and editing for my work in communications. I missed writing, but I was committed to being a stay-at-home mom, so I put it on the back burner.

Then in 2008, I discovered that my friend Anna had a blog. I didn't even really know what a blog was, but I checked out hers and thought it was so inspiring. I thought that starting a blog of my own would be a way to get back into writing on a regular basis. I remember asking Anna, "But what will I write about?" And she just looked at me with this expression that basically said, "You have plenty to write about. As a mom of five children, including twins, sharing your experiences, your faith, you won't have a problem."

And so I began.
Why do you keep blogging? What's your inspiration to continue?
This is an interesting question. I actually gave up my blog in 2011, after receiving more than one prompting by the Holy Spirit. I could just tell that He was asking me to detach from it for awhile, in order to focus on other priorities in my life. It was so hard, especially because I had met some wonderful online friends, who I would miss. But I was obedient, and I didn't blog for over two years.

I resisted Facebook for the longest time, but I finally joined in 2012. It really didn't compare to blogging, though. And I missed the writing the most.

Writing is the way I process what's on my mind and in my heart. Plus, through blogging, I have learned to appreciate and celebrate the ordinary. I prayed about starting up again, and the door opened in late 2013. I have tried to be much more intentional this time around. My blog is still a work-in-progress, which I guess represents the fact that I am, too!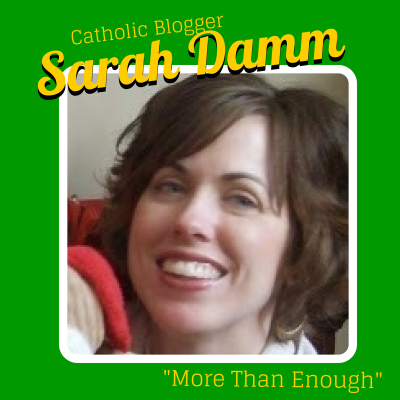 When you think of the New Evangelization as a Catholic blogger, what excites you? What makes you want to continue?
I think blogging is a wonderful way to be part of the New Evangelization, especially for women who stay at home with their children. Our first and foremost way to evangelize is in our homes, how we live out our faith with our family. And to be able to share that with other moms who are trying to do the same thing is a wonderful opportunity to help promote the domestic church.

I am doing things with my family that I didn't do growing up, and many ideas that I have incorporated into our family life I have learned about through other blogs.

Plus, if we are staying at home with our children and we aren't in the workplace, we don't always get to share our faith face-to-face with others. Blogging gives us a voice, and God can use us to touch other women, other moms who are looking for ideas, inspiration and encouragement.

It's a beautiful thing.
What's the most rewarding aspect of your blogging?
The most rewarding aspect of blogging is the online friends I have met. There are some kindred spirits out there living in Oregon and Ohio and Texas. I have no idea if I'll ever meet them in real life, this side of Heaven, but I have been blessed by what they share on their own blogs, as well as by the comments and e-mails we have exchanged. The people you meet through blogging make this big, universal Church a small world after all!
In your spare time, what are we likely to find you doing?
I like to read and knit. I enjoy going out for coffee either on my own or with a friend. I like to run, go for family walks or bike rides, and take Zumba classes. Sometimes, I wish I was more productive, even reading more than I do or finishing knitting projects faster or finally making that recipe binder I've been wanting to for years and years. But by the end of the day, sometimes I'm so exhausted, I just end up curling up in my comfy chair to enjoy a Netflix movie with my husband.
Want more Catholic Blogger interviews? Here you go.
Read more of our Tech Talk columns.
Copyright 2014 Sarah Reinhard
About the Author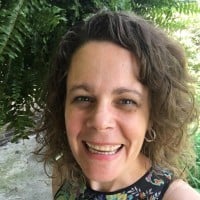 When she's not chasing kids, chugging coffee, or juggling work, Sarah Reinhard's usually trying to stay up read just one…more…chapter. She writes and works in the midst of rural farm life with little ones underfoot. She is part of the team for the award-winning Catholic Mom's Prayer Companion, as well as the author of a number of books. You can join her for a weekday take on Catholic life by subscribing to Three Shots and follow her writing at Snoring Scholar.