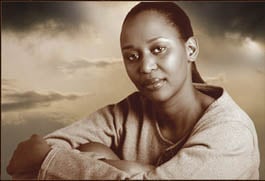 This week, we are honored to share a conversation with Immaculée Ilibagiza, a survivor of the Rwandan genocide and a noted Catholic author and speaker. Immaculée's books include Left to Tell: Discovering God Amidst the Rwandan Holocaust

, Led By Faith: Rising from the Ashes of the Rwandan Genocide

, and her latest book Our Lady of Kibeho: Mary Speaks to the World from the Heart of Africa

.
[podcast]http://media.libsyn.com/media/catholicmoments/cm121.mp3[/podcast]
Today on this Deacon Moment: words on an Archbishop... an Irish curmudgeon priest... and the late Holy Father John Paul II. Join Deacon Tom in a tender moment about priests in this, the Year of the Priest.
October is the Month of the Rosary, but it's also Respect Life Month, and Sarah Reinhard encourages us to pray a rosary -- even if we're no good at it -- for human life.
Share your feedback at 206-339-9272, comment here on the blog or email lisa@catholicmom.com.
Links for this Episode:
About the Author