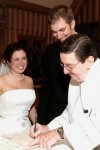 My dear friends -- friends of Lisa Hendey and Catholic Mom. I want to share a love story with you. To some, this may seem a 'downer,' although I hope not too much of one. To others -- they may see this like an On Golden Pond experience of love at the end of life. Since many of us loved that old, slightly syrupy movie with Henry Fonda and Katherine Hepburn, I hope you will find something touching in this story I share with you. My own tenderness towards On Golden Pond is in part due to a great sensitivity I have resulting from a father-wound... also about the issue of being loved and cared for at the end of life. I need to give you some other background to help you see why I am doing this column.
My wife Dee and I moved to Estes Park, Colorado in 1998. Estes is a place of soaring beauty -- I used to start my emails with the words, "Greetings from God's Country." And so it was; and so it is. We settled in quickly and by the year 2000, I was accepted for the deacon formation program -- a process that would take four years of classes at the John Vianney seminary in Denver. Dee was a happy and willing supporter and participant during this period. When not down in Denver, I was quite active in our parish.
There were and are a number of loving people in Estes Park. Early on, I was asked to take Holy Communion to a home-bound parishioner. His name was Bernie Campion. I hadn't met him before -- but he and his wife were ready when I knocked at their door. I did a short Communion Service and prayed for Bernie. I found out that he was dying from cancer. But it was evident there was a lot of love at the end of his life. And from that first contact, and after Bernie passed away, we got to know Kate Campion quite a bit better. She was Bernie's beautiful bride -- a bride of 50 or more years.
Kate turned out to be one of our biggest 'supporters' in the parish. You may never have thought of being a supporter for a seminarian of a deacon candidate. But Kate took it as her mission to write notes, give little gifts and send greeting cards every so often. "I'm praying for you two." "Thanks for studying to become a deacon." Some other people said nice things -- but no one was as outgoing in support as Kate was. And from all this contact, we came to know a good bit about her family. One of the family members that we had a sort of long-distance prayer relationship with was a son of Kate and Bernie Campion. His name: Russ Campion.
Even before we moved away from Colorado, a battle had started. It was a pitched battle between a man who loved life and wanted very much to live. The following article about Russ and love around him appeared in the on-line edition of the Omaha World-Herald. The OWH kindly gave me permission to use this 9/29/09 feature article written by Susan Szalewski.
"Omahans Jan Schroeder and Russ Campion needed a miracle or two. Their November wedding in Estes Park, Colo., clearly wasn't going to happen. Campion's health was fading. Just Wednesday, Schroeder wrote about Campion's struggle with cancer in an online journal for family and friends: "Dear God: If you have any miracles up your sleeve, NOW would be the time to unfold them. We are strong enough, have fought hard enough, and are waiting for your answer. Amen."

By Friday, the two were unsure whether he would live to see Saturday, so they made hasty plans to exchange vows Friday in his hospital room at the Nebraska Medical Center. If he could hold on, they would gather children, siblings and close friends for a more formal ceremony Saturday.

Then the miracles began. Friday afternoon, as the 58-year-old bride walked into Westroads Mall, she uttered another prayer. This time it was for a jeweler who could help her quickly find a wedding band for Campion, who is 62. Their quick exchange of vows before a minister was set to begin in about an hour in Campion's hospital room. Schroeder took with her the hospital tape she had wrapped around Campion's finger to obtain a ring size. She took the tape, attached to a card, to Fred Meyer Jewelers and explained how her groom was dying and how she needed the ring in 10 minutes.
The jeweler told her that the size of ring she needed typically has to be specially ordered. The store could have two smaller rings welded together, but it could take up to two hours. An employee offered to deliver the finished ring to the hospital. Schroeder said she could see the tears in the jeweler's eyes as she went ahead and bought the ring. She said she figured she could give the ring to her husband after the ceremony if they couldn't get it in time.

But the jewelry store employee made it to the hospital in time for the bedside ceremony. With tears in her eyes, too, the worker delivered the ring and a giant cookie, frosted with the words "Love Is Forever."
By Saturday, relatives from as far away as Colorado and Kentucky arrived with just 24 hours' notice. And Campion somehow rallied for the more formal ceremony, Schroeder said.

Campion, a retired real estate developer, and Schroeder, an eighth-grade literature and study skills teacher at Bryan Middle School, met six years ago. He was diagnosed with appendix cancer in December 2005 and over four years battled through numerous surgeries and three rounds of chemotherapy.

With each success, the couple celebrated. Yet the cancer fought back and spread to his bones, spine and other organs. But Saturday was no day for defeat. Though he was unable to walk, Campion was wheeled in his bed to the hospital chapel and a reception at the hospital's Storz Pavilion. He was awake, laughing and talking during the entire four-hour reception Saturday. For the first time in three days, he ate food, including wedding cake. Schroeder said her new husband said: "I feel really weird. I feel really good. "I feel like this is not the end."

The Rev. Martha Freeman officiated at both Friday's legal ceremony and Saturday's bigger celebration with about 20 guests in the hospital's St. Luke Chapel. She knew of Campion's love of boating, of the 48-foot catamaran he had been building and of plans the couple had to sail around the world. She quoted Robert Frost: "Two such as you with such a masters speed/ Cannot be parted nor be swept away/ From one another once you are agreed/ That life is only life forevermore/ Together wing to wing and oar to oar." The hospital paid for the small wedding reception, complete with flowers, food and cake.

Mr. and Mrs. Campion were still floating Sunday and Monday at the hospital, even as they arranged a flight for Campion to get back to his native Colorado for hospice care and what might be his final days.

The two leave Wednesday morning, she said. Campion was feeling good, his wife said, and she remained amazed at his rebound, no matter how long. "This could be for one day or one week or one month, this little rally of his. But who knows? "Miracles happen."
Final words from Deacon Tom: I received an email concerning Russ. Here is a portion of the text from that email:
Dearest friends....


You have hugged us, you have prayed with and for us, you have been our support and strength for almost 4 years as Russ struggled with cancer. Russ beat cancer by leaving it here on Earth!


Russ passed away peacefully this afternoon, Oct. 12, 2009 at 62 years of age surrounded by his wife, Jan Schroeder-Campion, sisters, Mother, family, friends,and the hospice chaplain.

He carried on a hard fought battle with many complications --and he is now free, at peace-- sailing into Heaven and being greeted by all the wonderful souls, like my Dad and my husband Bill's parents who are celebrating his arrival. (This was written by Jan Frame, Russ' sister).
I wish I could have shared a story about a love that conquers even cancer -- and perhaps in retrospect, I did.
Blessings.
Deacon Tom
Copyright 2009 Deacon Tom Fox
Article reprinted with permission of the Omaha World-Herald


About the Author

Deacon Tom Fox and his wife Dee are co-hosts of the CATHOLIC VITAMINS Podcast for over 6 1/2 years. Tom has also been a member of the Catholic Mom columnists team for eight years, and was a regular contributor to the Catholic Moments Podcast for three years. Most recently, Deacon Tom has been leading a project to bring Catholic radio to the north central Arizona community where he and Dee reside. Blessings!