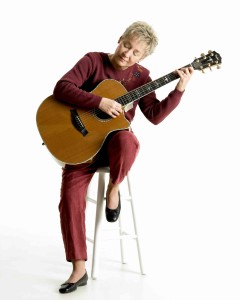 Nancy Krebs has long been one of my favorite Catholic musicians. With the recent release of her latest CD, Moved by God, and the launch of her newly redesigned website at NancyKrebs.com, Nancy has been one busy woman! I'm happy to share my recent conversation with this talented recording artist, actor, teacher and producer.
Please introduce yourself and your family to our readers.
Lisa, Thanks for giving me the chance to share my story and my music with your readers. I am a Catholic singer-songwriter and recording artist, having released now seven full-length CDs of original meditational/inspirational music. I currently serve as cantor/music provider for my home parish of Ascension in Halethorpe, Maryland (outside Baltimore), Holy Trinity in Glen Burnie, the Shrine of St. Anthony in Ellicott City, and occasionally St. Jude Shrine and other church venues throughout the metro area. I have been married to Pete Baden since 1983 and we have one adopted son. I teach voice production at the Baltimore School for the Arts as well as in my own studio, The Voiceworks. I also am a dialect/vocal coach for professional theatres in my region, and am a professional actor/singer myself.
Congratulations on the release of your latest CD, Moved by God. Tell us a bit about the creation of this project and how your music has evolved with this CD.
This has been a wonderful experience of 'branching out' to include far better arrangements than I ever could have imagined. I contacted David Smith of Icon Studios to provide the arrangements, and to make my songs more contemporary-sounding. He was just the guy for the job. David has a knack and a talent in so many ways, and his work on this collection of songs has catapulted my music into a whole different realm, for which I'm very grateful. The collaboration between him and the other contributing musicians worked very well, and I think the sound, the feel and the fullness of the music on this CD will surprise some folks--in a good way, I hope.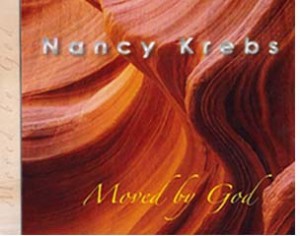 Moved by God was created with the assistance of one of my favorite producers, David C. Smith. What was it like to work with David and how has the experience helped shape your recent musical style?
Well, as I said above--he's tops. He was easy to work with, had great ideas, was willing to change his initial reactions to a song, and certainly took my 'style' into consideration. He knew going in that I favor thoughtful meditation and reflection, and he sought to complement my songs with that kind of arrangement, as well as challenge me to move into a more contemporary vein, which is exactly what I wanted to accomplish. He and his wife Teresa also added back up vocals, which brought yet another dimension to the songs.
I would love to hear the stories behind a few of the songs you've written for Moved by God. What inspired you to write "Welcome Me Home" and "Mary Knew" or any of your other favorite songs from this CD?
Welcome Me Home...is based on the parable of the Prodigal Son. It has a kind of bluesy-jazzy feel. I call it my 'Girl from Ipanema' entry. I love what David has done with the arrangement. I often get inspiration for songs from the readings on any given Sunday. Since I usually provide the Offertory or Communion meditation, I look for a different perspective that might continue the lessons of the day. This song was written for that purpose.
Mary Knew has a great back-story. I was in Fargo, North Dakota conducting a voice workshop for a university there, and friends of mine, a married couple, were taking me back to the airport. They happen to be Lutheran. Suddenly, out of nowhere, Pam, my dear friend, turns around in her seat (she was in the front passenger seat), and very intently asked: 'What's the deal with Catholics and Mary? Why is she so important?' Her intent look gave me pause. I silently prayed to the Blessed Mother during my intake of breath to answer. 'Please give me the right answer to this question, Blessed Mother!' I calmly responded: 'Mary was the greatest apostle of her Divine Son. She was the one who never failed Him, she was always there for Him, and always believed in Him, no matter what. She was His first disciple, the first person in His life to believe in Him. That's why she's important. We don't 'worship' her--we revere her.' I'm sure that Mary herself gave me that answer, it didn't come from me, that's for sure. This response seemed to make sense to Pam, and was accepted by her and her husband as very logical. I secretly breathed a sigh of relief. Later, at the airport, I felt this overwhelming need to write down some lyrics. It was as if the Blessed Mother herself sat down next to me--and dictated the words to Mary Knew.
When He was born,
He was so beautiful.
He took her breath away,
He stole her heart away.
I was in tears by the time I finished it. And it took only about 10 minutes--the fastest song I've ever penned. The melody came to me while the lyrics were being written, believe it or not--on a cocktail napkin. When it was completed and refined later, I felt like it was my answer song to the wonderful 'Mary, Did You Know?' by Mark Lowry and Buddy Green. It has become one of the most requested songs that I sing.
I know you just returned home from a trip to Europe. How was this adventure for you?
I was the dialect/vocal coach and faculty chaperone for a joint production presented by our senior acting ensemble of the Baltimore School for the Arts and Songtime Theatre Arts of Thornton Wilder's Our Town. It was a great experience, working with teenage actors on such a project. We were in Surrey for 10 days, and in that time, we rehearsed every day, all day, and presented the show for audiences on the 7th through the 9th day! Our students and the British kids had to learn a New Hampshire dialect for the show, and I was amazed at how focused the British students were, and how quickly they learned. Of course, I knew my own students, and had taught them beginning sessions on the accent before leaving for England, but the British kids had a blast with the accent, and working with their American 'cousins'. I fell in love with the beautiful English countryside, the people, the parents of the British students, and the whole experience. The weather was fabulous the whole time--very strange, since we always hear about the rainy weather in June. But we didn't have that--sunny days, with temps in the 70's. You can't beat that! I made a lot of new friends with those wonderful kids, and now we're all pals on Facebook!
You keep an active tour schedule. What do you enjoy about performing your music in person? How can readers contact you if they are interested in having you perform at their parish or organization?
Oh boy, I love everything about performing in person. It's a whole different experience for an audience to see and well as hear the music being shared. My concerts are very 'theatrical' with lights and sound, and liturgical banners. The mood is changed with every song, different lighting and such, and I give a little background on the song about to be sung. Since I am an actor, the songs most likely take on a personal feel for those watching, and seem to affect people deeply. It's such a joy to be able to share the songs that God has given me with others. My main mission is to share this music with as many people as I can. if anyone would like more info about getting a concert at his or her church, just either call me or email me at 410-987-4861 or nkrebsbj@aol.com or just visit my website at NancyKrebs.com.
Are you working on any upcoming songwriting projects?
Yes, right now I'm preparing for the St. Gabriel festival Mass at St. Leo the Great church in Little Italy in Baltimore. We have a wonderful Italian community who brought the devotion to both St. Anthony of Padua and St. Gabriel Possenti to Baltimore when the people emigrated here from their region in Italy. This festival is two days long and includes a procession through the community with the statue of St. Gabriel; complete with a little Italian band playing traditional songs, and food, games etc. It's terrific for the whole family. I've been writing two songs about his life and his special attraction for young people. I also plan to move forward on developing a song I was blessed to write while in Italy last October. It's a Christmas song, and maybe it'll be a single before this coming Christmas season.
Are there any additional thoughts or comments you'd like to share with our readers?
I would like to encourage your readers to continue to support Catholic artists and their music. Find a way to begin a concert series in your church, or a reason to bring an artist to your parish for a retreat, a mission or as part of a special Season of the Church Year. Often our pastors don't think of music as a way to evangelize or to bring parishioners together, but music has a special power and can add so much to the lifeblood of a parish. So think about how you might include music from one of your favorite Catholic artists in your parish!
Visit Nancy Krebs at NancyKrebs.com.


About the Author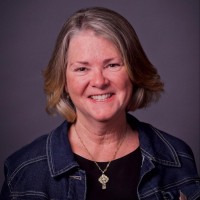 Lisa M. Hendey is the founder of CatholicMom.com, a bestselling author and an international speaker. A frequent radio and television guest, Hendey travels internationally giving workshops on faith, family, and communications. Visit Lisa at LisaHendey.com or on social media @LisaHendey for information on her speaking schedule or to invite her to visit your group, parish, school or organization. Visit Lisa's author page on Amazon.com.