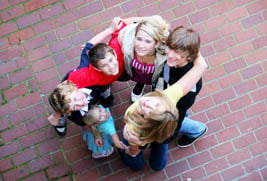 Conceived and founded by Mary Kay Hoal, Yoursphere is the first social networking service for youth that parents can embrace. Drawing on her corporate entrepreneurial experience as a media strategist, advertising, marketing and publishing VP formerly with CMP Media LLC, Mary Kay built the Yoursphere team.
[podcast]http://media.libsyn.com/media/catholicmoments/cm126.mp3[/podcast]
A proud wife and mother of five children (both biological and adopted, ranging in age from 4-17 years old), Mary Kay Hoal faces the same challenges every parent does: keeping her kids safe; raising them to be good, happy and well-balanced people; and providing them with the tools and support to create their own future. While Mary Kay readily admits that she didn't "get" the whole online social networking phenomenon at first, she quickly recognized its importance in her kids' lives. After researching the disturbing landscape of social networking sites—including endless inappropriate content and thousands of predators targeting youth—Mary Kay's mission became clear: raise the bar. Yoursphere is a terrific online community where kids and teens connect, share and inspire -- all in a place the puts Internet safety first. Parents can relax while kids and teens have fun.
A visit to a U. S. military cemetery near Florence Italy is the fodder for this week's Deacon Moment with Deacon Tom Fox. Tom suggests we applaud all our veterans and to pray for them on this, their special day.
Sarah Reinhard's struggling with prayer, and her Mary Moment reflection this week includes a quote from Mother Teresa's Secret Fire: The Encounter That Changed Her Life and How It Can Transform Your Own

, by Joseph Langford, and thoughts on tapping into Mary's desire to help us succeed.
This episode of Catholic Moments is sponsored by CatholicMatch.com, the Leading Catholic Singles Community. Share your feedback at 206-339-9272, comment here on the blog or email lisa@catholicmom.com.
Links for this Episode:
About the Author