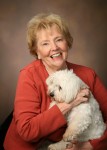 Our guest on this week's show is Carol Showalter, author of the great book Your Whole Life: The 3D Plan for Eating Right, Living Well, and Loving God

. This week, we also discuss the kickoff of the SQPN Giving Campaign. Please consider a donation to the Star Quest Production Network to support our efforts to use Social Media in evangelization.
[podcast]http://traffic.libsyn.com/catholicmoments/cm_162.mp3[/podcast]
Please join me in thanking our Catholic Moments contributors by visiting their sites: Deacon Tom Fox, Lisa Mladnich, Avery, Sarah Reinhard.
This episode of Catholic Moments is sponsored by CatholicMatch.com, the Leading Catholic Singles Community. Share your feedback at 206-339-9272, comment here on the blog or email lisa@catholicmom.com.
Links for this Episode:
About the Author