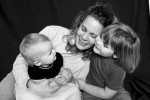 As we approach a holy day that I inevitably forget about and fail to plan for, despite the fact that I am not only a convert (which is supposed to give me some sort of free pass to remembering these sorts of things, isn't it?) and that I have worked for many years in a parish office.
It's such an important holy day that it's a Holy Day of Obligation; we have to attend Mass.
Mother Mary gets not one, but two of these Holy Days of Obligation in her honor, within a month of each other. The first is on December 8, when we celebrate her Immaculate Conception.
Does your priest remind everyone every year that we're actually honoring Mary's conception and not Jesus'? I understand the confusion. It's Advent. We're waiting for that important birth. If we're going to go to Mass through the week, isn't it for that birth? Isn't it related, somehow, to Advent?
Well, yes, it is. But…
It takes a while to get your mind around it, doesn't it?
We are joyful, ecstatic, and positively beside ourselves about that birth in late December. We can't wait to rejoice. We are looking for the star in the sky, just waiting for the first hint. We are decorating and listening to special music and sending greeting cards near and far. There's supposed to be something special in the air and even in the secular realm that flirts with atheism, you'll catch a smile and a softened attitude.
It seems anti-climactic to take our focus from Jesus to His mother. Yeah, we love her. Yeah, she's great. Yeah, she deserves a crown and all of that.
But if it weren't for her, we wouldn't have all this Advent preparation. If she hadn't said "Yes," there would be no Christmas. If she were not conceived, we would not have a cause for joy.
This holy day that seems to slip in and surprise me, every single year, is a reminder of my heavenly family history. It's also inspiration for my aspirations. Mary was perfect – preserved from original sin, but not from the harrowing effects of it (death and suffering) – and because of her perfection, she was fit to bear the King.
I sometimes feel like Mary is a distant figure from a remote far-off village in another time and another place. She can feel like a role model for other people, but not for me. There's intimidation in all that perfection.
But when I go to Mass next week, and when I offer myself to the One who gave her to me, I'll feel it again.
"Only say the word…"
She reaches out her hand…
"…and I shall be healed."
…and she pats my shoulder, pointing to her Son. He's there, right beside her, chubby and cute and begging to be cuddled.
Celebrating the Immaculate Conception requires us to make extra effort. If all we do is go to Mass, we've done all she would ever ask us to do. Can I do something more for her this year? Maybe I'll remember to wear a blue sweater, since blue is her color. Perhaps we'll say a Hail Mary around our dinner table, explaining to our girls that Mary was once a baby in her mommy's tummy too. There's a chance that one of the young artists in my life will be inspired to draw and make a card.
But the best gift I can give her is the one I give her Son when I ask Him to take me and heal me at Mass.


Copyright 2009 Sarah Reinhard
About the Author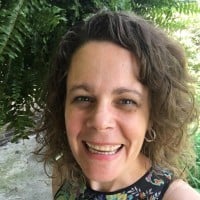 When she's not chasing kids, chugging coffee, or juggling work, Sarah Reinhard's usually trying to stay up read just one…more…chapter. She writes and works in the midst of rural farm life with little ones underfoot. She is part of the team for the award-winning Catholic Mom's Prayer Companion, as well as the author of a number of books. You can join her for a weekday take on Catholic life by subscribing to Three Shots and follow her writing at Snoring Scholar.