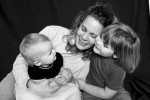 Maybe she can't help it. Maybe she watches, from her perch in perfection, and she just can't stop herself from reaching down and even actually appearing.
I don't blame her. When I see my children struggling, I can only hold off for so long, especially when I see the frustration turn to anger, the attempts turn to defeat, the clenched jaw turn to tears.
What's a mom to do? Do you let them work themselves up until there's no hope, until they turn away and give up completely?
Our Lady of Guadalupe remains a reminder, for me, of how much Mary loves me.
Do you know the story of Our Lady of Guadalupe? If not, I encourage you to read the English translation of the Nican Mopohua. It's the earliest written account of the apparitions. The language is old fashioned in places, but it resonates with me.
Rather than a cold and distant woman, perched on a pedestal, we have a young girl – pregnant by the symbolism of the black belt around her waist – who is a mestiza, half Aztec Indian and half Spanish.
The Spanish were conquering the New World in Mexico, and it wasn't a pretty sight. There were abuses and many of the Aztecs must have doubted the reality of a kind and loving God. How could this new God be any better than the bloodthirsty gods they had been convinced to abandon.
And then Mary came, not as a goddess or a deity demanding payment, but as a humble servant, a simple woman, a loving mother.
The symbolism of everything about her spoke to the Aztecs, and it spoke so convincingly that millions of them were converted in the next couple of years.
But what resonates most to me, during this busy season when I'm always juggling too much and failing at nearly everything, is what she said to Juan when he was trying to avoid her in order to get help for his uncle:
"Am I not here, who is your Mother? Are you not under my protection? Am I not your health? Are you not happily within my fold? What else do you wish? Do not grieve nor be disturbed by anything."
She comes to each of us, no matter who we are or what we have. Juan Diego was the epitome of a nobody, and he told her so when he failed in his first few visits to the bishop. "Find someone worthy of this task," he begged. "No way," she replied with a smile, "you're the perfect messenger."
And then, when he's at his wits' end, knowing that he is letting her down to take care of his dying uncle, she reminds him that there is, in fact, no conflict between their goals.
"I'm here to help you," she says. "God loves you, and so do I. That's why I'm here. Won't you let me help you?"
The real question, as I contemplate this generosity, is how I can let her help me this Advent. What special challenge am I facing? What burden am I bearing alone that I could share with her? What spiritual growth am I denying in favor of my comfortable, perhaps sinful, habits?
Though Advent is halfway over, it's not too late for me to find her there, right beside me. It's not too late to accept that I am, in fact, the perfect person for the mission God has in mind for me.
Copyright 2009 Sarah Reinhard
About the Author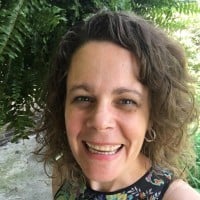 When she's not chasing kids, chugging coffee, or juggling work, Sarah Reinhard's usually trying to stay up read just one…more…chapter. She writes and works in the midst of rural farm life with little ones underfoot. She is part of the team for the award-winning Catholic Mom's Prayer Companion, as well as the author of a number of books. You can join her for a weekday take on Catholic life by subscribing to Three Shots and follow her writing at Snoring Scholar.