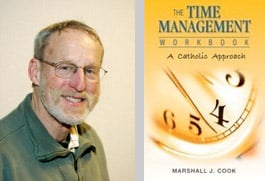 This week's guest on Catholic Moments, Marshall Cook, is a former professor, noted speaker and time and stress management expert. Marshall joins us to discuss this latest book Time Management: A Catholic Approach.
[podcast]http://media.libsyn.com/media/catholicmoments/cm134.mp3[/podcast]
What in the world is SPIRITUAL MOTHERHOOD? Deacon Tom introduces the topic on this Deacon Moment, and he invites women of all ages and status to consider sponsoring the spiritual journey of a member of the clergy.
It's a Mary Moment with some raw thoughts about grief and about Mary's role as a comforter to us, as Sarah Reinhard reflects on the recent pain and grief in her life and Mary's role in helping her feel comforted.
Winter, Spring, Summer, or Fall? What spiritual season are you in? Avery from the Live WTL podcast shares and idea fromHave Faith: Sustaining the Spirit for Confirmation and Beyond, A Candidate and Sponsor Resource

by Micheal Carotta.
Please consider joining us in support of the SQPN.com Giving Campaign. Your donations will help us to continue in this important evangelization work.
This episode of Catholic Moments is sponsored by CatholicMatch.com, the Leading Catholic Singles Community. Share your feedback at 206-339-9272, comment here on the blog or email lisa@catholicmom.com.
Links for this Episode:
About the Author