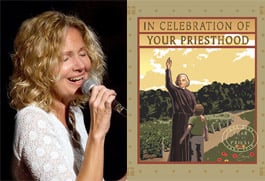 As a Catholic singer-songwriter and inspirational speaker, this week's guest Annie Karto hopes to stir the flame in the Catholic Church through the power of God's great gift of music. Her beautiful song "You Are a Priest Forever" has inspired so many!
[podcast]http://media.libsyn.com/media/catholicmoments/cm133.mp3[/podcast]
What if Jesus said to you that He only wanted one New Year's Resolution. With that as a premise -- Deacon Tom explores what ONE THING he would resolve in 2010. And what might your's be?
Sarah Reinhard shares her struggle with resolutions and a suggestion from My Ideal: Jesus, Son of Mary, by Fr. Emil Neubert.
Please consider joining us in support of the SQPN.com Giving Campaign. Your donations will help us to continue in this important evangelization work.
This episode of Catholic Moments is sponsored by CatholicMatch.com, the Leading Catholic Singles Community. Share your feedback at 206-339-9272, comment here on the blog or email lisa@catholicmom.com.
Links for this Episode:
About the Author