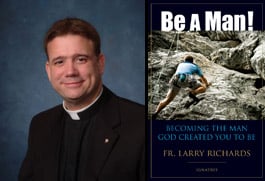 Father Larry Richards is a popular, captivating preacher and a favorite speaker at Catholic conferences. He aslo serves as the pastor an inner city parish, St. Joseph Church/Bread of Life Community in Erie, Pennsylvania. Father Richards is the author of Be a Man!: Becoming the Man God Created You to Be

. His inspirational and challenging talks have changed the hearts, minds and lives of millions world wide.
[podcast]http://media.libsyn.com/media/catholicmoments/cm136.mp3[/podcast]
Someplace between the incessant demands of an alarm clock and the whining of a young one who won't go to sleep -- have you found time for YOU and SILENCE? Finding silence is the topic of Deacon Tom's reflection for this week.
Lisa Mladnich shares an Amazing Minute this week on Holy Purity.
Avery talks about her Confirmation saint, St. Frances Xavier Cabrini and her inspiring life story as it relates to God's call in our own lives.
Mary's love is a great grace, and in this week's Mary Moment, Sarah Reinhard shares a quote from My Ideal: Jesus, Son of Mary that gives us all a better understanding of how that is.
Please consider joining us in support of the SQPN.com Giving Campaign. Your donations will help us to continue in this important evangelization work.
This episode of Catholic Moments is sponsored by CatholicMatch.com, the Leading Catholic Singles Community. Share your feedback at 206-339-9272, comment here on the blog or email lisa@catholicmom.com.
Links for this Episode:
About the Author