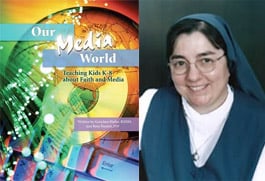 This week we welcome Sister Rose Pacatte. Sister Rose is the Director of the Pauline Center for Media Studies in Los Angeles. She is an noted national and international media literacy specialist, an award winning author and a noted film and television analyst. Sister Rose joins us today to discuss her latest book, Our Media World, co-authored with Sister Gretchen Hailer.
[podcast]http://media.libsyn.com/media/catholicmoments/cm137_2.mp3[/podcast]
In this Deacon Moment, Tom Fox shares two stories of surrender by Catholic Moms. Tom proposes consideration of a Lenten goal of surrender for parents and spouses.
Avery (www.livewtl.com) talks about evangelizing as a teen by following St. Francis of Assisi's advice to be Christian examples in the world.
Lisa Mladnich shares a few "amazing" lesson planning tips.
Inspired by a comment by Sherri Antonetti, Sarah Reinhard reflects on Mary's effort and obedience in this week's Mary Moment.
Please consider joining us in support of the SQPN.com Giving Campaign. Your donations will help us to continue in this important evangelization work.
This episode of Catholic Moments is sponsored by CatholicMatch.com, the Leading Catholic Singles Community. Share your feedback at 206-339-9272, comment here on the blog or email lisa@catholicmom.com.
Links for this Episode:
About the Author