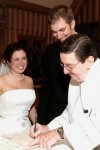 There are beautiful Easter food customs among peoples of Russian and Ukrainian heritage. And given the migrations of peoples, one can trace and see that variations on these customs have moved into other nationalities and other countries.
The first is the Easter egg. These eggs symbolize eternal life -- our new life in the risen Christ. In Russia, dyed and decorated eggs are blessed by the priest and treated as sacramentals. They are among the first foods eaten to break the Lenten fast. And it is likely that this somewhat religious use of eggs at Easter is how we Americans came to dye eggs and associate them with the Easter bunny for our children. It is said that even prior to Christianity, eggs symbolized long or eternal life. Sharing the dying and decorating of Easter eggs with children is common now in our country. But wouldn't it be lovely to have a few eggs which are decorated with a symbol like the cross or a lamb? The children could take the selected eggs to ask for his blessing of these as a first-food to be eaten on Easter morning.
Now - the next area is one that has many spellings and variations as a part of Easter custom and usage. Spellings include Kulich, Koolitch, Kulick, etc. This is another food used by Europeans to break the Easter fast. And thus is the reason for this Catholic Mom column -- to suggest that you might consider a new custom -- a new way for your family to celebrate the resurrection of Christ -- and the symbolic end of your Lenten fast.
So what, pray tell is Kulick? Kulick is a sweet bread that symbolizes Christ - the bread of life. In our tourist town back in Colorado, a lady who had been in the Madonna House community more than 20 years introduced us to the custom and the symbolic loveliness of this Easter bread. Her name is Lucille and she would go from home to home to home delivering one pound coffee-can sized containers of Kulick and smaller jars of Paska.
Paska is rich sweet spreadable mixture of butter, sugar, eggs, cheese or cottage cheese and raisins. It is always a treat - a delight to slice this tender Easter bread and to spread a significant enough quantity of the sweet Paska on it.
Oh -- before I forget -- a baking tip: I mentioned that Lucille made and brought these loaves of bread as an Easter symbol and gift. At first, I thought the shape to be somewhat odd. Like many bakers, Lucille Many cooks bake the bread in something like a one pound coffee can. The bread is baked in such a way that the top of the baked bread spreads out of the coffee can and becomes mushroom shaped on top. This unique appearance is meant to symbolize Christ breaking forth from the tomb.... or fresh flowers pushing up from their 'death' in the ground.
Now if you are inclined to want to try this in your house -- and you are ambitious, let me share this. Two tall kulick loaves are traditionally baked to symbolize Christ and His Church. Twelve smaller loaves can be baked to represent the apostles. And if you make this for use at home -- say for your own Easter gathering festivities -- surround the Easter table with daffodils or other festive spring flowers.
And you may know the customary greeting at this time of year: one person announces "Christ is Risen." To which the other person replies, "Truly He is risen!"
To dear Lisa and her family -- and to all the Catholic Mom family -- a holy and happy Easter.
Deacon Tom
Easter Kulick With Paska Recipe
Ingredients
BREAD
2 pkg Active Dry Yeast
1/2 c Warm Water
1/2 c Warm Milk
1/2 c Sugar
1 tsp Salt (opt)
2 Eggs
1/2 c Shortening
6 Flour
1/2 c Raisins
1/4 c Blanched Almonds, chopped
1/2 tsp Vanilla
FROSTING
1/2 c Powdered Sugar
1 1/2 tsp Warm Water
1/2 tsp Grated Lemon Peel
1/2 tsp Lemon Juice
PASKA
1/4 lb Sweet Butter, unsalted
1/2 lb Powdered Sugar
4 Egg Yolks
3 lb Farmer Cheese. (Another variation is cottage cheese and you can find that recipe as well)
1/4 lb Raisins
1/2 lb Nuts, chopped
1 tsp Vanilla
1/2 pt Cream
2 c Cherries, chopped
Directions
Bread
Dissolve yeast in warm water. Stir in milk, sugar, eggs, shortening, 2/ cups flour, raisins, almonds and vanilla. Beat until smooth with electric mixer. Mix in enough flour remaining flour to make dough easy to handle. Turn out on a lightly floured board and knead adding remaining flour until smooth and elastic, about 5 minutes. Cover with saran wrap and let rest 20 minutes. Divide in half and let rise about 1/ hours until double. Place each half in a well greased 1-lb coffee can. Let rise to top of cans (about 40 minutes). Preheat oven to 375oF. Bake 40-45 minutes or until brown. Remove and drizzle with frosting mixture while still warm and serve with Paska.
Frosting
Mix all ingredients together.
Paska
Mix the butter and sugar together until smooth. Add remaining ingredients, mixing well. Put in a cheese cloth to drain out liquid (about 3 hours), using a weight. Remove from cloth and refrigerate.
Copyright 2010 Deacon Tom Fox
About the Author

Deacon Tom Fox and his wife Dee are co-hosts of the CATHOLIC VITAMINS Podcast for over 6 1/2 years. Tom has also been a member of the Catholic Mom columnists team for eight years, and was a regular contributor to the Catholic Moments Podcast for three years. Most recently, Deacon Tom has been leading a project to bring Catholic radio to the north central Arizona community where he and Dee reside. Blessings!