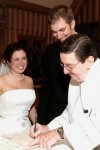 It wouldn't take too long being around this deacon before you'd find out he is a well-intentioned man but with many of the failings of Peter before Pentecost or Paul before his fall from his horse.
One of my failings is my lack of patience (God help me I hope it isn't lack of tolerance) for parents of newborn babies who come to seek baptism when it becomes obvious they don't practice the faith to much of any degree -- nor do they have the intention to do so. Now before you jump down to the response area, anxious to chew me out for missing opportunities to teach and gently encourage people to a loving practice of the faith -- hear me out.
This seems to most often happen related to baptisms, but I have surely experienced it with weddings. I also have experienced it when a son or daughter comes in and begins to tell me how committed to the Catholic faith that 'dear old mom' was and how the kids have decided they know what mom would want for her funeral.... often including scattering her ashes over some mountain range. But I digress.
My failings at being as loving and patient as I really want to be is when in the course of getting to know the people and the reason for our time together, I begin to find out that they are: SPIRITUAL -- BUT NOT RELIGIOUS!
Do you have members in your family who describe themselves as such?
I won't go into particulars -- but someone I know quite well has a Facebook page, and in the area where you list religious views, this person lists 'My Own.' And when my wife and I lived back in the beauty of the Colorado Rockies -- you might hear people opining in a local coffee shop about how they love to go be with God (or a Higher Power or That Special Power....) up there in the aspen trees.
Now I don't mean that God doesn't sometimes make His most holy presence known in the clean mountain air and the noise of quaking aspen leaves. But just exactly what does Spiritual = Yes, Religious = No mean?
Does the person have a soul? Are they aware of that? Do fresh breezes and gorgeous vistas nourish their soul? Perhaps so -- but what do they know of the Trinity? What does God want them to know about living life? Does the Spiritual = yes statement mean that religion is an impediment to spirituality. This would be interesting to Jesus and his followers who spent virtually every Sabbath in the temple or synagogue.
And --now that I think of this area of church practice -- I visited the catacombs in Rome some years ago. People died -- martyred sometimes within minutes of being found to be practicing 'church stuff' (we would prefer to call it Mass, thank you). Their bodies were wrapped in linen and put inside the thousands of niches that are visible today.
The people who sign up for 'Spirituality Yes But Religious No' organization aren't bad folks. And --- when a young couple comes in to see me for, perhaps a baptism of their child, I often share my testimony: "I've been out in the world -- and for lots of years I didn't practice the faith.
But some things happened and now I'm very, very committed to being a Catholic. So much so that I gave up my free life to become a deacon in the Church." I wait - hoping they will ask for details and I can share more of my conversion and joy at being a fully alive Catholic.
What I often get is some variant such as:
-the folks wants us to do this
-my grandparents are coming and they believe in this
-I was baptized so I want that for the baby
How do such folks believe their lives will be enhanced or that the child is improved by actions they don't believe in? Will they return to Church faithfully? In later years how will they deal with sickness and death? Will the child come back for religious education classes and make a First Confession and First Communion? No matter how they stutter for answers to questions such as these -- what you can sense is that they may not even be spiritual -- they just want to do what they want to do and don't want to consider truth, absolutes or the meaning of Christ's life and death and His gift of the Church, born at Pentecost.
And so -- from time to time, I have to take the sin of impatience and being judgmental into Confession. Sometimes it's not as bad as others -- I guess it's the times when I'm closer to a spiritual 'being' rather than a churchy deacon sort of action.
Blessings.
Deacon Tom
Copyright 2010 Deacon Tom Fox
About the Author

Deacon Tom Fox and his wife Dee are co-hosts of the CATHOLIC VITAMINS Podcast for over 6 1/2 years. Tom has also been a member of the Catholic Mom columnists team for eight years, and was a regular contributor to the Catholic Moments Podcast for three years. Most recently, Deacon Tom has been leading a project to bring Catholic radio to the north central Arizona community where he and Dee reside. Blessings!