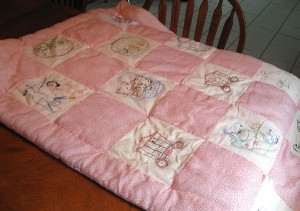 When I was born, my grandmother, as it was her tradition, sewed a quilt for me, beautifully pink and decorated with hand sewn embroidered animals to delight me as I'd drift off to sleep. Ever since I can remember, I had fallen asleep with this quilt, and all its snuggling began to show it's age. I didn't care, it reminded me of her, her warmth, her gentleness, her understanding eyes, and bright smile.
At some point, reaching high school age, I put this quilt into storage. Clearly feeling my age, I said goodbye to another childhood item, and kept it safe for about ten years. Then I had my first child. I dug out this old quilt, quite tattered at this point, and gave it to my first born, a daughter, as God would have it, and perfectly suited for my grandmother's quilt.
My little girl slept with it nightly, and it gradually began to lose its cotton filling, the animals were losing their thread, and ultimately, it was beginning to be too fragile for nighttime sleeping. My daughter had loved the blanket for many years, and before I finally took it off her bed, with tears and all, I promised her, I'd figure a way to repair this vintage classic quilt. How many moments I regretted that promise, I'll never know! Many a time I wanted to enlist someone else to fix this problem for me, pay someone else to keep up this beautiful quilting tradition……Truly, it had to be God, reminding me in His little ways, that I had made a promise to her. I had told her that I would put my loving tenderness into this quilt for her, just as my grandmother had done for me.
Well, knowing my sewing skills were severely limited, I procrastinated on this project for years. It sat folded up in my laundry room for almost a year before I pulled it out, determined to complete the task. I made countless trips to fabric stores, craft stores, book stores and my online research was beyond the norm. I started to pick up new embroidery thread to first re-stitch the antique animals so carefully crafted by my grandmother.
Before beginning, I knew I had to rip out old stitches and discard of the flimsy thread bare backing this quilt had lived with for almost thirty years. I almost felt as though I was ruining this masterpiece by dismantling it, in order to repair it. I kept asking God for the gift of artistry, for the gift of sewing, for the gift of time, any gift He saw fit that would enable me to have confidence in this daunting task.
I bought my hoop for the embroidery, and I began work. Quickly I realized the talent my grandmother had in creating these picturesque little creatures, whimsical and simple; they all had a special place.
For many evenings I sat, under a bright light, working to re-create what my grandmother had done at least 30 years prior. It was no small task. One square often took weeks to complete, as I worked to perfect the artistry done before me.
Unfortunately, one square of the artwork was permanently ruined, and I was forced to tear out the square, but to keep the uniformity of the quilt, I had to insert a new one. I allowed my daughter to pick her animal of choice. No surprise for me there. She picked horses….not just horses, a mother and child horse picture, which I admit, I was proud that she seemed to understand the magnitude of a project this was for me to complete.
I simply ironed on the horses picture, and finally finished this last square of embroidered artwork. Next it was time to buy fabric for the underside of the quilt, fill it with cotton batting and sew the three together.
Again, I lamented this task. I am still learning how to use my sewing machine, and this quilt, meaning so much to me personally, and to my daughter…...Well, I didn't want to do permanent damage to this amazing piece of both our childhoods.
The completion of this lengthy, loving project was no short of miraculous, as it seemed there would never be a time that it wasn't a weight on my shoulders. Finally the work was complete just in time for Christmas this last year, 2009. It took over two years to complete this task, but as I laid this blanket over my sleeping 9 year old daughter, on Christmas Eve, I took a moment, and said a prayer for my Grandmother, who passed some 19 years ago:
Thank you for the gift of Grandma. I am so glad she shared the gifts you gave her, with us. Lord, as I pass this finished quilt onto my daughter, may she always know and feel the warmth of your love and gratitude for her own special gifts. Lord, thank you for these moments, when we see love flowing from generation to generation, and that love becoming the very fabric of our lives.
May eternal rest be granted unto her soul O Lord, and Let perpetual light shine upon her. May her soul, and all the souls of the faithfully departed, rest in peace. Amen.


Copyright 2010 Sahmatwork

About the Author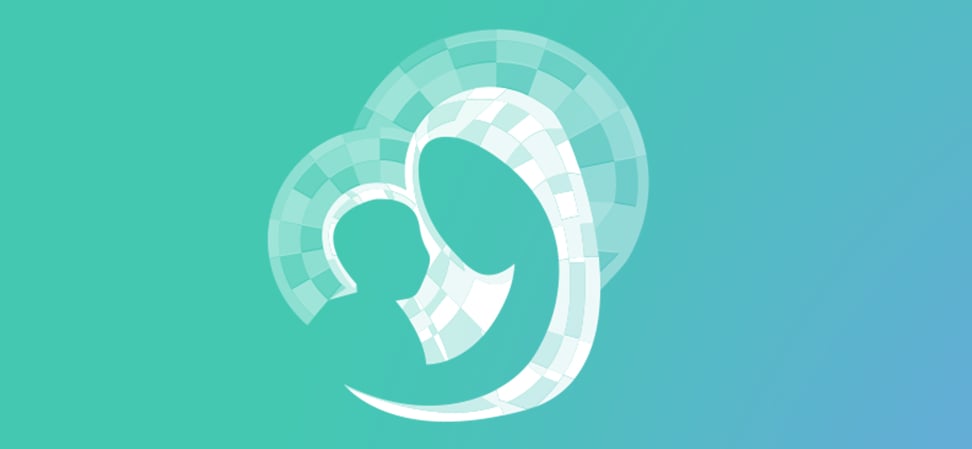 We welcome guest contributors who graciously volunteer their writing for our readers. Please support our guest writers by visiting their sites, purchasing their work, and leaving comments to thank them for sharing their gifts here on CatholicMom.com. To inquire about serving as a guest contributor, contact editor@CatholicMom.com.