It's hard to write again after so long. I've been a deacon for just over a month. My life hasn't changed a lot, then again, it's been completely transformed.
I'm still studying, working, eating, sleeping, praying, and playing. Just that, I'm a deacon and will be forever. But what does that mean?
This seems to be the story of our lives. I shared this in one of my first homilies because we all experience it. Often the most meaningful moments of our lives come and go with the most normalcy. We spend hours, weeks, and even years preparing for something that happens in the blink of an eye. Then it's over, and nothing seems different though we know that everything has changed. Marriage, birth, death, and so on.
Perhaps it hit me hardest in the actual ceremony of the ordination to the diaconate.
All the priests that live at the seminary with me, warned me - they hardly remember anything of the ordination Mass and ceremony. I, however, was determined to reverse this trend. I started meditating on the prayers and the rite one month in advance, trying to soak it all in.
Then the hurricane of exams and last minute preparations hit: it was going to be hard to find time to reflect and pray. Finally it was over with the last exam for my Bachelor's Degree in Theology. But eight entire days of silence, prayer, and reflection provided just what I needed– another chance to go deep.
After that, the big day dawned. I had finished up all the little details the night before - getting my things ready for the ceremony, packing my bags to go back to the seminary, and preparing for my parents visit - and had the whole morning to pray and really speak with Christ.
It was time. We gathered in the sacristy, put on our albs for the first time, and walked out. It was almost like a dream, but I was remembering! The readings inspired. St. Paul's questioning exhortation to love, "If God is for us, who can be against us?... What will separate us from the love of Christ?" Christ assured me in the Gospel that we would have a challenging mission – not easy but worth fighting for, "Then you will be handed over to be tortured and put to death; and you will be hated by all nations on account of my name…. But anyone who stands firm to the end will be saved."
Then I lost it. For all of my firm resolutions to remember and take it all in, I couldn't. We promised to be humble, preach, live celibacy, pray, and be obedient in the service of the Church - one seemed to run into the other before I could realize what happened. As we laid prostrate on the ground for the Litany of Saints, I was totally distracted about how absolutely hot the chapel was on this scorching June day.
The rest was just a blur – receiving the Gospels, the vesting with the stole and Dalmatic, a "specific deacon outfit", the sign of peace, and the rest of Mass.
To be perfectly honest, I did have a minute of lucidity once dressed stole and the Dalmatic on, it kind of hit me all of a sudden, "I'm a deacon now, and I will be forever."
This reflects our lives, or mine at least. We constantly live one normal minute after another. Nothing seems spectacular, and we get caught up almost in the tedious passing of time. Yet God's grace works unseen miracles.
In this case it was a diaconate ordination, but many times it's a Mass. We receive Jesus' body and blood. A confession - sins are forgiven and eternal life returned. Sometimes it's simply meeting a real friend that changes our life, bringing both closer to our true mission.
I guess it goes back to simply realizing that in the ordinary is truly the extraordinary. Grace hides in the natural. Transformation in our every day lives. God hides in the flesh!
Please comment and share your stories.
Here is a brief summary of the ordination in photos.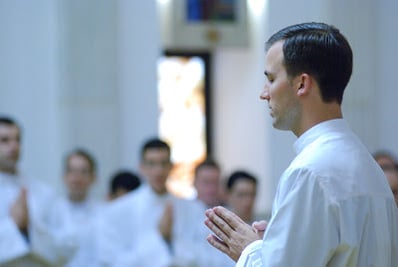 Trying to stay focused.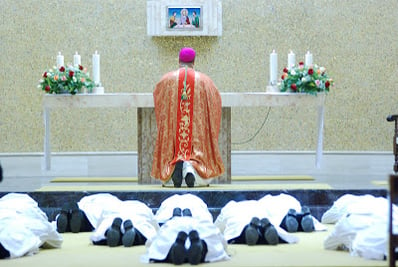 During the Litany of the Saints.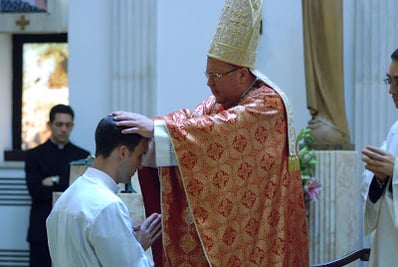 The imposition of hands.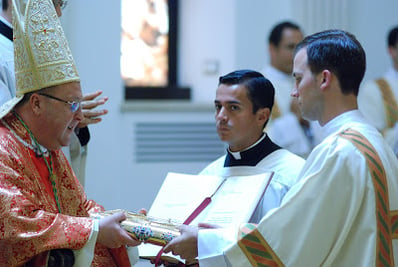 Receiving the book of the Gospels in my "deacon outfit".
Greeting Bishop Leuzzi after the rite of ordination.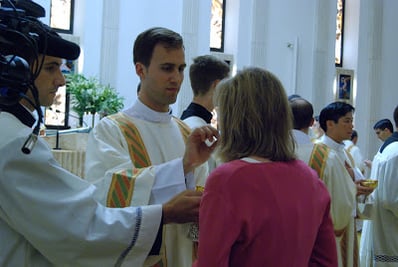 Giving my mom communion.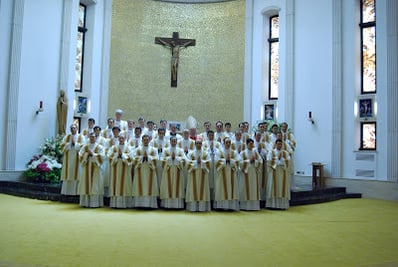 Group photo afterwards.
Copyright 2012 Br. Mark Thelen, L.C.
About the Author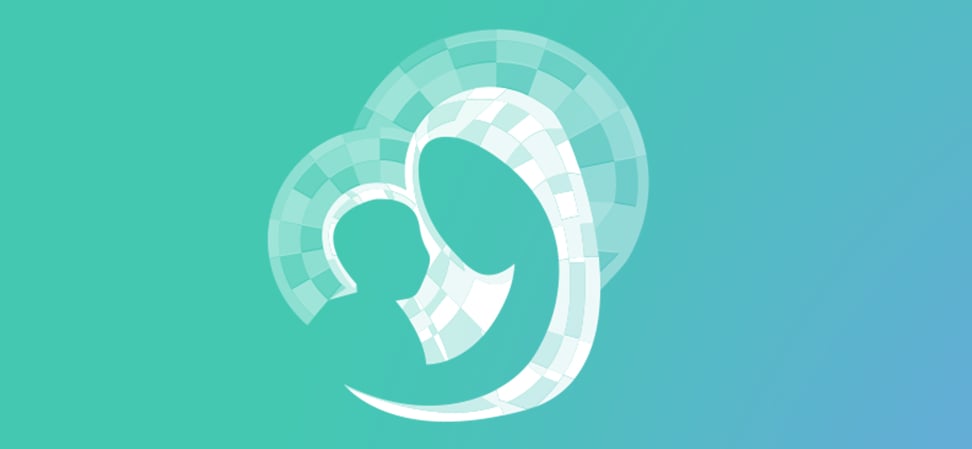 We welcome guest contributors who graciously volunteer their writing for our readers. Please support our guest writers by visiting their sites, purchasing their work, and leaving comments to thank them for sharing their gifts here on CatholicMom.com. To inquire about serving as a guest contributor, contact editor@CatholicMom.com.