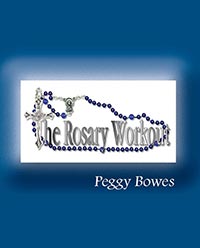 Exercise seems to be the goal I can't meet. (Well, it's in fine company with cooking and cleaning, but let's deal with one thing at a time, shall we?) I know I need to exercise. I don't need to lose weight, but I do need to become intentionally active. I've been battling it — trying and giving up, repeat — and, at some point last year, I actually sent up some prayers asking for divine help.
I have found that help. It's called The Rosary Workout, by Peggy Bowes.
When I first read it, it was but an e-book, but now Peggy has a hard copy book too, and it's perfect if you share my ailment known as Exercise Procrastination.
"I did not want my exercise program to be yet another entry on the crowded list of quick-fix, instant-result workout plans," Peggy shares. "Instead, I decided to create a plan that would help a person improve both physically and spiritually. This is not a multi-tasking prayer-and-exercise plan, but rather an integrated approach to taking care of the body and soul together."
There are five parts, and I've included links to sample pages (which open as PDF documents):
* Part I – a summary of the Rosary, its history, the significance of Rosary prayers, and its power as an intercessory prayer. See a sample page.
* Part II – an introduction to the concept of the Rosary as the School of Mary and the importance of Mary's role as advocate and teacher, the Nine Choirs of Angels and their significance in Rosary prayer. See a sample page.
* Part III – an explanation of the scientific principles of exercise that are the foundation for the workouts and great information on nutrition and hydration. See a sample page.
* Part IV – the preparation to begin the workouts, including suggestions on how to start and commit to The Rosary Workout™ and how to handle setbacks. See a sample page.
* Part V – the workouts, divided into Beginner, Intermediate, and Advanced levels, with graphics to explain the workout instructions. See a sample Intermediate Level workout.
My problem in the past has been a combination of time and motivation. I think I've found motivation in a way I never looked for it before: through my favorite prayer (though, admittedly, the hardest one I have to pray). I love that Peggy encourages readers to keep a journal that includes not only details about each workout, but also details about spiritual things. Did you go to Confession? Have you been struggling? Do you have a special intention?
Tying my physical and spiritual health together in such a tangible way feels right in a way that excites me, that makes me, for once, WANT to work out.
Would you like a copy of The Rosary Workout? Well, sure you would, but we have something even better…Peggy has generously offered to design a personal workout and 4-week healthy eating plan in addition to donating a book.
To enter, share your biggest exercise challenge before next Friday, July 2, 2010. We will share the plan, along with some general notes about the case (identifying and intimate details will be removed) in a future column here at CatholicMom.com.


Copyright 2010 Sarah Reinhard

About the Author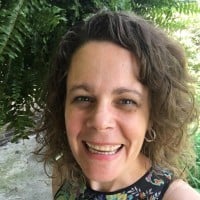 When she's not chasing kids, chugging coffee, or juggling work, Sarah Reinhard's usually trying to stay up read just one…more…chapter. She writes and works in the midst of rural farm life with little ones underfoot. She is part of the team for the award-winning Catholic Mom's Prayer Companion, as well as the author of a number of books. You can join her for a weekday take on Catholic life by subscribing to Three Shots and follow her writing at Snoring Scholar.