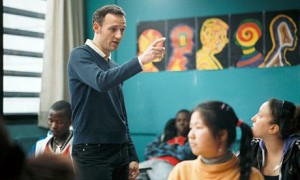 This week, I watched the second film listed in the USCCB's list of Top Ten Movies for 2009, a French docu-drama entitled The Class (Entre Les Murs)

. The film is rated PG13 and earned an A-III (for adults) rating from the USCCB. Click here to read the USCCB's full review of The Class.
Since my boys are older teens, I made the decision that we would watch this film as a family. I'm so glad we did that, as both boys enjoyed the film and it prompted an interesting family conversation about the realities of high school life. For those who haven't yet seen the film, here is a summary from IMDB:
Teacher François Marin and his colleagues are preparing for another school year teaching at a racially mixed inner city high school in Paris. The teachers talk to each other about their prospective students, both the good and the bad. The teachers collectively want to inspire their students, but each teacher is an individual who will do things in his or her own way to achieve the results they desire. They also have differing viewpoints on the students themselves, and how best to praise and discipline them. The administration of the school tries to be as fair as possible, which includes having student representatives sit on the student evaluation committee. Marin's class this year of fourteen and fifteen year olds is no different than previous years, although the names and faces have changed. Marin tries to get through to his students, sometimes with success and sometimes resulting in utter failure. Even Marin has his breaking point, which may result in him doing things he would probably admit to himself are wrong. But after all is said and done, there is next year and another group of students.
The film is based upon a book written by François Bégaudeau, who plays the fictional teacher M. Marin in the film. Much of the film takes place within the four walls of Mr. Marin's French classroom, so we are party to an ongoing banter between teacher and students. For the most part, Marin seems to be the "cool teacher" who bends over backwards to reach his students, to connect with them, and to see things from their perspective. But everyone has their breaking point, and Mr. Marin reaches his and indeed crosses the line in an altercation that involves the use of a derogatory slang term. We don't use the word in question around our home, but the altercation and our family's perception of what really happened in the classroom spurred a great conversation about respect between teacher and students, as well as the mistaken perceptions people can have when language is involved.
The Class highlights the challenges faced in racially charged environments, as well as the difficulties faced by immigrants and their families. If you didn't already think that high school teachers deserve a one-way ticket to heaven, you may think so after spending a few hours as a fly on the wall in The Class.
I'm not altogether positive why this film was selected as one of the Top Ten of 2009 by the USCCB. Perhaps this statement from their full review could give a bit of insight: "The film's positive values and relevance for high-school students, as well as its potential to serve as the basis for fruitful family discussion, may outweigh the concerns listed below, making it acceptable for older teens." This perspective on the film's message along with it's positive reception by film critics and its nomination for an Academy Award likely brought it to the top of the list. I enjoyed the film, and I think our viewing of it together will stick with our family for the years we are "stuck" in high school. I wouldn't recommend this film for children and parents would be wise to pre-screen the film prior to sharing it with younger teens.
Next up on my Summer Movie Challenge - Fantastic Mr. Fox

. Here's the trailer for those who are watching along with me:
About the Author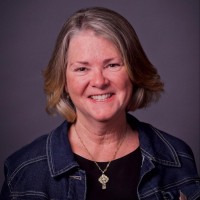 Lisa M. Hendey is the founder of CatholicMom.com, a bestselling author and an international speaker. A frequent radio and television guest, Hendey travels internationally giving workshops on faith, family, and communications. Visit Lisa at LisaHendey.com or on social media @LisaHendey for information on her speaking schedule or to invite her to visit your group, parish, school or organization. Visit Lisa's author page on Amazon.com.