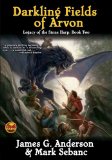 Darkling Fields of Arvon is book two of the Legacy of the Stolen Harp fantasy series written by James G. Anderson and Mark Sebanc. The first book, The Stoneholding is a fascinating read, full of adventure and written so eloquently that the reader can just imagine themselves being there. The riveting story of Kal Wright and his friends wasn't quite over and it lent itself to the authors to continue the intriguing tale and produce another to the delight of their avid fans everywhere.
Hoping that Darkling Fields of Arvon is comparable in literary genius as its predecessor, I went about my task of reading it with understandable apprehension. To create one book of exceptional quality is quite a feat and to be able to repeat the phenomenon again in another book is unfathomable. Usually if the first one is excellent, the odds are that the next one in the series is mediocre at best. With that said, I read Darkling Fields of Arvon and outlandish as it seems, it is as good as the first installment, if truth be told, maybe even better.
In Darkling Fields of Arvon Kal and his friends continue their daunting quest to find the stolen sacred harp and the lost heir to the throne, Prince Starigan. Their heroic journey is riddled with action-filled encounters, engaging characters, and tantalizing mysterious creatures making it an exciting read that you cannot put down.
Written in Tolkien fashion and descriptive style, Anderson and Sebanc capture the essence of a time long ago, mythological to be sure, but so realistic that the reader can somehow actually picture it happening in the far distant past. The authors are excellent story tellers and can weave a tall tale better than most. You will find yourself wrapped up in the adventure becoming totally involved with the story, begging for more.
Two more books in the series are forthcoming. Readers will undoubtedly be looking forward to their release for the continuation of the exciting quest of restoring peace and harmony to Ahn Norvys.
Click here to read chapters 1 through 7.
Order Darkling Fields of Arvon and support CatholicMom.com with your purchase.
Review Copyright 2010 Laura Grace

About the Author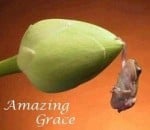 Laura Grace was a special education teacher years ago and has taught CCD for 16 years. She has been a contributor at catholicmom.com since 2006, is part of the Gospel Reflections Team, and creates lesson plans for religious education and homeschooling. In 2008 Laura started her own blog, The Catholic Toolbox where she posts activities, crafts, games, worksheets, puzzles, lesson plans, classroom tips, etc. for all ages.