There are people in the world that we will only know about through the newspaper, television, or other media. These people are those who we have very little if any personal interaction, so whether they are "real' or not seems automatically not an issue.
Then there are those people that we know on a personal level, but will never see in person. They have touched us soul to soul. Pope John Paul II's amazing "Theology of the Body" brings to light the ever more perfect attitude of the human person...a soul body. As we share ourselves with others, it is not our body, but our soul that is doing the sharing. Our soul is so much deeper than the flesh, which means so much more in the interaction.
Whether we have friends next door or across the continent or world, every time we phone them, email them, chat with them, it is a soul to soul conversation. It is a share that cannot compare to anything else. You can make it special and bless another with this in mind.
Have a soul to soul conversation with someone today.
Copyright 2010 Ebeth Weidner
About the Author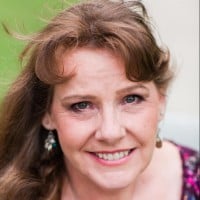 Ebeth Weidner, a Master Catechist and cradle Catholic who considers herself a Catholic information junkie, writes from her heart about the faith and hope she finds in the Catholic Church. She is the author of "A Catholic Mom Climbing the Pillars" blog. She is the wife of a research science Professor and mom to 3 great young adults people living on the coastal side of North Carolina.