So how crafty are you? What is your favorite religious craft you make using silverware (one or all kinds of silverware)?
Here is a craft I make with my students using silverware for Grace Before Meals.
Grace Before Meals 3-D Picture- Students make a placemat any way they like using a large piece of construction paper 18 X 12"and other craft supplies. Then glue a napkin, silverware, plate, and a plastic cup on it like a place setting. Students then glue the Grace Before Meals prayer on the plate.
*After my students make their placemats I asked them, "How do we set a table?" We then do it slowly step-by-step making the craft (I have the students glue the prayer on the plate later) so hopefully they can help out at home setting the table.
I then say to my students: Do any of you say "grace" or thank God before you eat your meals? Do any of you have a "standard" grace you say at home? (Give a few examples.) Why do we say grace? Is it important? Why? Sometimes we can easily forget to thank the Lord for all He has given to us and a great way to remember is to always pray to Him to thank Him for the food He gives us to eat each day. We have lots to be thankful for. Let's not forget to say thank you to God.
Please leave a comment so others can get ideas for crafts.
Copyright 2010 Laura Grace
About the Author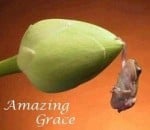 Laura Grace was a special education teacher years ago and has taught CCD for 16 years. She has been a contributor at catholicmom.com since 2006, is part of the Gospel Reflections Team, and creates lesson plans for religious education and homeschooling. In 2008 Laura started her own blog, The Catholic Toolbox where she posts activities, crafts, games, worksheets, puzzles, lesson plans, classroom tips, etc. for all ages.