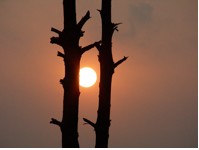 All of us are called by God to be His apostles. The word "apostle" means "One sent on a mission." This news excites and fulfills some of us, while it frustrates others, especially those who say, "But I have no idea what my calling is!"
A calling is a sacred synthesis where our talents, abilities, and deep, holy convictions intersect with the legitimate needs of the word. There are vocational callings, such as the single life, religious life, or married life, and there are callings related to the work we do. Money, comfort, and ease don't necessarily associate themselves with a calling, nor does a calling mean something we would necessarily choose for ourselves. Yet all true callings originate in God's heart, produce fruit for the Kingdom, and bring us closer to our heavenly goal.
For those of you who feel you haven't yet found your calling, I encourage you to take advantage of "the time in between," that is, this time in your life when the way isn't clear, and you may harbor fears that your calling is elusive, or lies in your past and can't be relived, or that somehow you've missed it all together.
God wants to come intimately close to you during your "times in between." Advent is such a time, a period of waiting, of preparation. In such times, God invites us to delve into a spiritual practice: to pray daily, to fast, to go often to the Sacrament of Reconciliation and to Mass, and to read holy books and Sacred Scripture. The time in between provides a door to our greater surrender and increased trust in God, since we are left without answers about the future and are wholly reliant on God's initiative and timing to give us revelations. We can't make a calling happen, more than we can make the sun rise and set. This doesn't mean, of course, that we shouldn't explore different holy avenues in life and see where they take us; exploration is often part of good discernment. But please don't worry if you feel like you haven't found your calling, and try to guard your heart and mind against pining for a past that is gone and a future that hasn't yet arrived.
Can you receive God's love now? Do you love God and others now? Are you living His commandments and His teachings, given to us through His Church--now? If so, why worry? Achieving the call God has in mind for you has just as much to do with "being" as "doing." If a person has accurately discerned God's will for him- or herself, regarding a job or vocation, such as being a doctor, a house-wife, a priest, a father, a gardener, etc., but follows that calling without love, s/he really hasn't achieved his/her calling at all.
God is with you NOW. If you can find Him NOW, live close to Him NOW, you needn't worry you have missed your calling in life, because sometimes when you're in between, you've actually already arrived.
Copyright 2010 Christine Watkins, MTS, LCSW, Inspirational Speaker and Author of Full of Grace: Miraculous Stories of Healing and Conversion through Mary's Intercession
About the Author