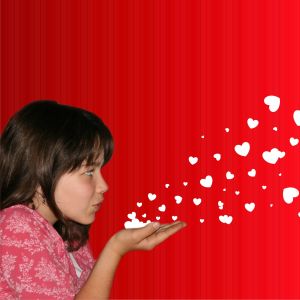 Each February, our society puts tremendous pressure on us for romance and intimacy that is, at best, contrived. Commercials for flowers that can help your sweetie one-up her cubicle neighbor are followed by teddy bear, greeting card, chocolate, and even sexual enhancement advertisements. While St. Valentine is credited with supporting young love and is the patron of love, young people and happy marriages, this is certainly not a celebration of his journey to sainthood.
Having children in your life gives you the opportunity to return to the fun, innocent Valentine's Days of our youth. Cutting out hearts, consuming sweets, and exchanging cards with friends and family celebrates love in a more Platonic, human-family kind of way. This is closer to a saint's perspective, if not quite on the mark. How many people know that St. Valentine was a martyr, a priest (maybe even a bishop), or in addition to the above mentioned, the patron saint of bee keepers, epilepsy, fainting, travelers, protection from the plague, and Bussolengo, Italy.
Our nature-oriented ancestors turned to the Patron of Lovers as the birds began the mating rituals in preparation for spring, mid-February. So the focus on romantic love is not something the greeting card companies entirely manufactured. Actually, February 14 is officially the feast of Saints Cyril and Methodius now. We don't want to forget these scholarly, faithful, and persistent saints. But there are ways to truly honor the equally worthy St. Valentine with our young ones.
One year, my oldest daughter threw a girly tea-party with finger sandwiches and sweets. We stopped to make special foam Valentine frames featuring images of St. Valentine I downloaded off the internet for display in their homes. Spending time reading about the life and persecution of St. Valentine helps us focus on the feast day. This is also a great time to pray special prayers to St. Valentine for newlyweds, engaged couples, and hopeful single friends in our life. We can also pray to the saint for the preservation of the Sanctity of Marriage in our world.
It's also a great time to sing songs about love. Skidamarinka Dinky Dink is a fun one. Love is song to a medieval canon featured in our Fall collection. The Riddle Song (I Gave My Love a Cherry) is a sweet lullaby with clever lyrics and a nod to the eternal connections of love. We can read the "love" verses from Scripture with the children: John 3:16, 1 Corinthians 13, 1 Timothy 1:5, Romans 12:9-10, Deuteronomy 6:5, John 13:34-35, 1 Peter 4:8, John 15:9-13, Proverbs 10:12, just to name a few.
Here are some other great resources and products for celebrating with children:
Copyright 2011 Kate Daneluk
About the Author

Kate Daneluk is a wife, mother of six, and co-founder of Making Music Praying Twice. With a background in music, theology and education, she contributes articles and resources to various publications.