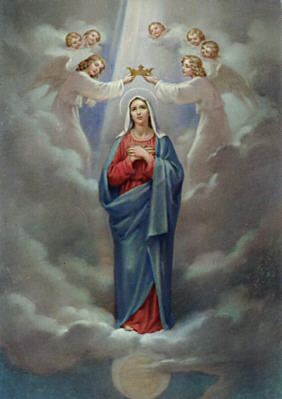 "We offer Thee, O Lord Jesus, this fifteenth and last decade in honor of the glorious crowning of Thy Blessed Mother in Heaven, and we ask of Thee, through this mystery and through Her intercession, the grace of perseverance and increase of virtue until the very moment of death and after that the eternal crown that is prepared for us. We ask the same grace for all the just and for all our benefactors."
This month, we sing Mary's praises, decorate her shrines and crown her with roses, for May is the month of Our Lady. And it is fitting we pray this last mystery of the rosary in May, as we honor the Queen of Heaven. While all her merits are due to God's will and His creation, His ultimate creation is worthy of great admiration and praise.
'With love the Divine Artist bestowed the white of absolute sinlessness, the fullness of grace; the red of ardent charity, blended with the blue of true humility. What any son would do for his mother, that and incomparably more the Incarnate God did for His Mother. The result of God's handiwork was magnificent beyond description, something befitting the Queen of Heaven, yet so attractive that the lowliest human being, the outcast, could look up and lovingly whisper, 'Mother.' " (Fr. Daniel A. Hare, S.J.) And once we whisper her name, the treasures of her grace begin to fall upon us, for she is Our Lady, Our Blessed Mother, and Our Queen, given to us by Our King.
The title of queen, in Jewish tradition, was given to the king's mother. This station was highly honored by all the king's subjects and was used to gain favors from the king for those who had recourse to her. To have the ear of the queen meant the king would hear you as well. And if she favored your request, the king would find a way to grant it, if it was for the benefit of his subjects.
Mary has been given to us all not only as Our Blessed Mother, but as our Queen – to hear our supplications and present them to Christ Our King. And while He would not approve a request that was outside His ultimate will, her entreaty holds sway for those who request help in growing in virtue for the sake of His glory, and she happily bestows graces upon the children of His Kingdom for the benefit of their souls.
One of the greatest graces we could receive is the gift of perseverance in growing in holiness and virtue. There is no shortage of references to this fact in scripture, Church teachings and the writings of the Saints. Quotes such as "He that shall persevere to the end, he shall be saved," (Matt 24:13) point to the fact that the Kingdom of God is reserved for those who continually strive for it. And St. Bonaventure reminds us that, "Only perseverance is crowned." What ultimate anguish it will be to be refused the crown He has prepared for us because we failed to pursue a virtuous life!
Yet we have a simple instrument to assist us. For while Our Lady may be the distributor, the rosary prayer is the most efficient means through which we request to receive virtues. St. Louis de Montfort reminds us of the importance of persevering in praying the rosary: " (Let) no man take thy crown: take care that your crown is not stolen by somebody who has been more faithful than you in saying the Holy Rosary. It is "thy crown" - Almighty God has chosen it for you and you have already won it halfway by means of the Rosaries that you have said well."
We have learned these past months that the rosary is not a tired old prayer. Each mystery replays for us the fascinating stories of the lives of Christ and Our Lady and demonstrates a treasured and holy virtue invaluable to the soul. Indeed, this holiness is within everyone's grasp! Take hold of and cling to your humble beads, that Mary will reveal to you the treasures of grace hidden within the rosary. For these virtues, should you persevere in finding and polishing them until the moment of your death will be your pride, glorifying God as they adorn your heavenly crown.
Copyright 2011 Cassandra Poppe
About the Author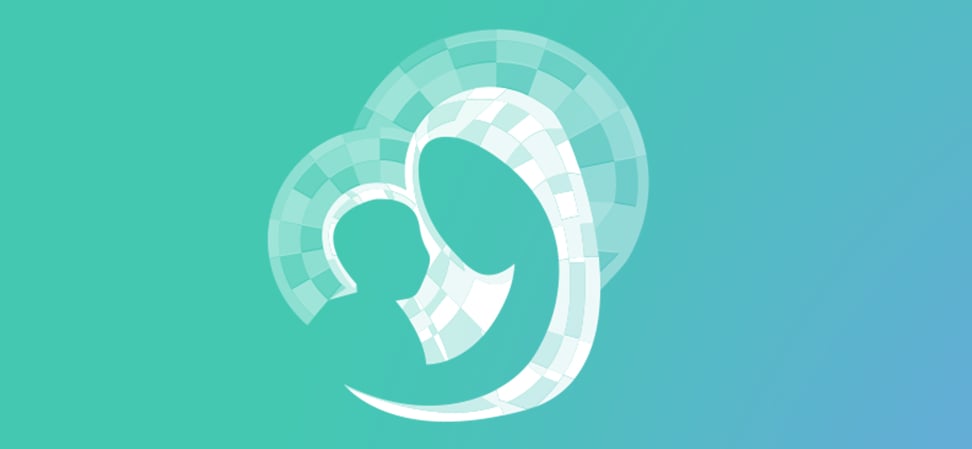 We welcome guest contributors who graciously volunteer their writing for our readers. Please support our guest writers by visiting their sites, purchasing their work, and leaving comments to thank them for sharing their gifts here on CatholicMom.com. To inquire about serving as a guest contributor, contact editor@CatholicMom.com.