Editor's Note: I am so grateful to Leticia Velasquez for sharing her recent trip to the March for Life in Washington DC with us. For a full look at all of Leticia's photos, please visit her great blog, Cause of Our Joy. I know you'll enjoy her full report on this wonderful event! LMH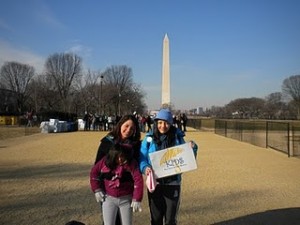 The event after my EWTN interview with Teresa Tomeo (one of our group recorded it and posted it on Facebook, you can view it
here
) went very well, thanks be to God.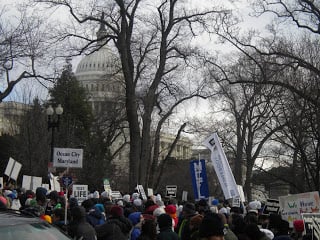 I came in ten minutes late, huffing and puffing, after having walked rapidly the entire 9 blocks between the EWTN interview location and the National Right to Life Headquarters, but I was thrilled to introduce Rep McMorrisRogers to Valerie Guilloux of the Lejeune Foundation. she presented the Congresswoman with a copy of "Life is a Blessing", some brochures and a press kit. I hope that this is the beginning of a fruitful relationship between the founder of the Congressional Down Syndrome Caucus and the Jerome Lejeune Foundation in the US.
Also, please note that Life is a Blessing is available for sale through NCBC web site: https://www.ncbcenter.org/NetCommunity/SSLPage.aspx?pid=191&nccsm=21&__nccspID=991

The KIDS marchers with Rep McMorris Rogers
We videotaped the entire event, and will be producing a short documentary on the KIDS participation in the March, so you can see it and share it with that big homeschooling group when its done. I would love to meet Dr Bruchalski after my back is recovered. My doctor, Dr Judith Mascolo, who was with me in the interview has put me on travel restrictions for three months. She said my back is completely stress related! Wonder where she got that idea?!
After Rep McMorris Rogers left, I had some down time to eat and chat with Valerie Guilloux. She and her husband, Jean-Marc, are the contact people for the Jerome Lejeune Foundation in the USA.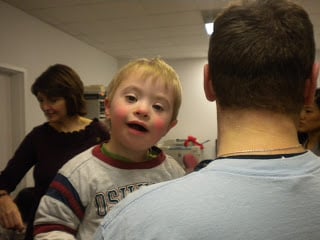 Eddie Sloan on dad Neil's shoulder.
By the time we marched, we were only Dr Judtih Mascolo, and her two daughters, Neil and Melissa Sloan and their two kids, and me and my three girls, and one of Gabbi's college friends. The six young men from Catholic University's branch of the Order of Alhambra (Catholic fraternal order which cares for the intellectually disabled) had begun to march already. My Christina refused to join the March as it was too noisy and congested, so we walked on the sidewalk alongside, with me coaxing her block by block. I miss the days she used a stroller!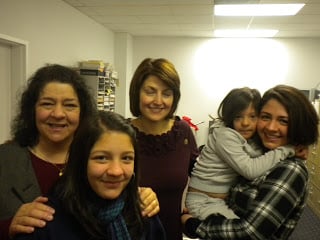 Rep Cathy McMorris Rogers (center) with Leticia and family.
We didn't want to get stuck in the bottleneck in front of the Supreme Court, so, after interviewing the Neil and Melissa Sloan for the documentary, and meeting Monica, a contributor to my book A Special Mother is Born, we filmed a few minutes of the thousands of young marchers surging up Capitol Hill, we headed for the Hyatt, and met many old friends and new ones. I got to chat with recent convert to the pro-life cause and the Catholic Church, and author of "Unplanned", Abby Johnson, and her husband. He shared how happy he was when his wife left her job at Planned Parenthood, and she shared how it was the loving, prayerful pro-life protesters who touched her heart. "The harsh ones, carrying bloody signs only hardened my resolve to keep doing what I was doing," she said.
I was able to tell Terri Schiavo's mom Mary. Schindler how sorry I was for the loss of her beloved daughter and husband, Robert, who died this year, and how, as the mother of a special needs child, her daughter's murder was personal to me. I told her how we made a three foot by 12 foot sign saying "Save Terri" and held it on the Supreme Court steps while praying the rosary in her final days. Mary was moved by this, and came over to meet Christina.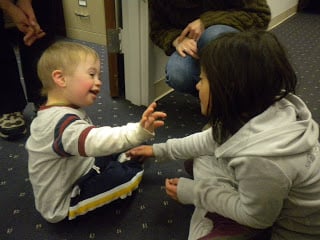 We also met our friend, Good Counsel Homes Director Chris Bell and his sister-in-laws who wrote "The Caterpillar who Went to Church": series. I told them how their book was instrumental in helping me catechized Christina regarding the Blessed Sacrament, preparing her for her First Holy Communion, and Susan Brindle gave me a book which compiles all there sacrament stories into one. The Slaves of the Immaculate Heart of Mary, who run Morningstar Camp and the Franciscans of the Immaculate from Airmaria were also with us. Such saints among us!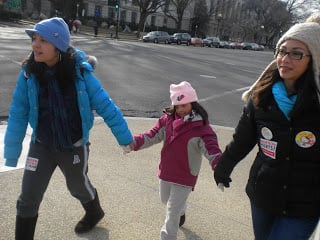 Then, completely exhausted, we took the Metro to our hotel. The Metro was thick with priests and leftover marchers, and two lovely Virgina gentlemen gave up their seats for my young daughters. Southern hospitality at its best!
The girls went out with Judy for pizza near the hotel which was buzzing with fraternity and sorority events (we were on the campus of George Washington University) I remained behind in the hotel with Christina, with a cold compress on my swollen feet, on my bed, trying to relax a back strung tighter than a violin, while trying in vain to find news coverage of the March on TV. Maybe that wasn't the most relaxing thing to do!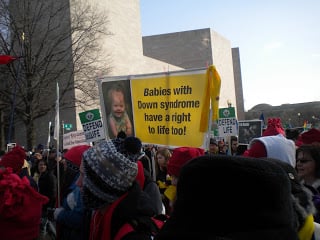 The next morning, we got a mistaken wake-up call at 7AM, tried to shower with limited hot water (the hotel had a boiler crisis) and at 9:40 got on the road. We picked up our camera equipment at National Right to Life Committee Headquarters, and some coffee, and made our last DC stop at the Basilica of the Immaculate Conception, where a new president was being installed in a Mass. The girls toured the Basilica while I interviewed (by phone) Fr Gary Thomas on whose experience the new film "The Rite" is based. See the interview
here.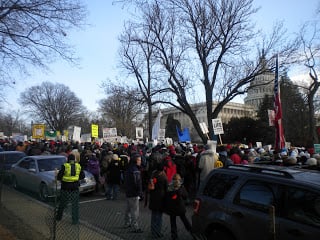 We installed new windshield wipers on the van since my husband advised us we were heading towards snowstorms up north, and Gabbi my 18 year old was driving ecause of my back spasms. I am in awe of her steady nerves, and common sense. Near the end of our trip, my back was feeling better and I offered to drive, however she insisted, saying, "I want to say I drove the entire journey in both directions".
She did it, however we were disheartened that we arrived at the Charter TV studio too late to tape an interview on the March, because of our many stops.
We promised to do a show for "The Face of Pro-life" next month, including our film clips. We will be sharing links to it here. It was a fruitful and blessed trip to the March for Life.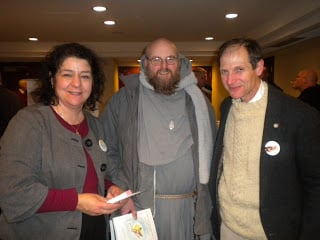 Leticia, Friar Roderic Burke, FI, and Good Counsel Homes Chris Bell.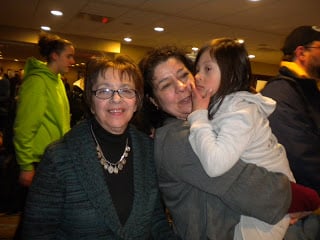 Mary Schindler, Leticia and Christina
About the Author