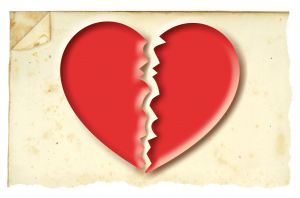 Our daughter Mary went through a divorce a few years ago. What started with a seemingly wonderful marriage partner wound up with lawyers on both sides and a divide as big as the Grand Canyon. It was pretty ugly. As her father, I tried, I really tried to talk to Mary about the meaning of marriage. I tried to speak of the damage to the kids. And I talked about the pain and life-consequences that would be passed on to her next generation. No acceptance of my words; the fight was soon underway.
Some time ago, Catholic adoption advocate and columnist Heidi Hess Saxton wrote of a woman friend who was going through divorce. In her column, Heidi said, "In at least one of these cases, the woman has endured years of selfishness and immaturity, supporting her family herself as her husband found one excuse after another to abdicate his financial responsibilities to his family. Before they married, he said all the right things. After the wedding, the truth emerged with alarming clarity." This column by Heidi sounded like a reprise of things that I'd heard.
And so our daughter who was and thankfully still remains a mostly sweet, caring woman toughened up in negotiating with and through her lawyer. Gosh was there vitriol, negativity and dishonesty in this process. Three kids. Forced to adjust. They can't help but take sides at any age. In laws on both sides forced to take sides. One party in this sought out church practice. The other parent doesn't believe in organized religion. Guess how confused the children will be about the image of a loving God. And there are other pains in these situations: a working mom unable to get home in time to fix a proper meal. Or a former spouse who won't negotiate about visitation schedules when special situations present themselves. Kids overdosed with materialism as parents contend for who can be the best gift giver.
As a minister in the Church, I've been involved with other end-of-love situations. I've heard the words, "Where is the Church in this?" And in some ways I have great sympathy with that hurt. And yet - you might ask where is the Church when addiction enters a home. Or pornography. Or infidelity. Or boredom. And while I have concern to try and help -- most must suffer outside the Church with perhaps some limited help from Marriage Encounter (marriage improvement), or Retrouvaille (pronounced Retro-vie and intended for helping couples put the pieces back together when things look like the worst is going to happen). There's also Christian Family Movement and other good programs for couples still in love. But nothing that I'm aware of in the Church at large for single parents. This doesn't seem like the Church is serving where and how it ought: those who follow such matters tell us that even in Catholic families, the marriage failure rate is near fifty percent.
In 2008 on the feast of the birth of the Virgin Mary, Holy Father Benedict the XVI said the following:
"[Her birth] constitutes .... an event that touches all of us, because every gift that God has given her, the Mother, he has given thinking also of each one of us, her children. Hence, with immense gratitude, we ask Mary, Mother of the incarnate Word and our Mother, to protect every earthly mother: those that, together with their husbands, educate their children in a harmonious family context, and those that, for so many reasons, find themselves alone in facing such an arduous task.
"May all be able to carry out with dedication and fidelity their daily service in the family, the Church, and society. May Our Lady be sustenance, comfort and hope for all."
So it seems that the Holy Father recognizes the singular pain that takes place in a significant segment of our society. Maybe because I'm family-close to one of these situations, I am sensitive and pained where others are hardened or accepting of this as the new way of life. Blended families have created such a polyhedron of what society has become that people seem dulled to it all. And yet....
I pray for single mothers. I ache for them. All too often, they are sort of isolated from historically 'normal' families. Heidi Saxton raised questions about what it must be like to try to be an all-things-parent. As a grandfather -- I come to visit and I see evidence that those children need a stable male influence. Our two visits a year just don't cut it. We say grace before meals and they now associate that practice with us and our visits. On this last visit, I gave a 'father's blessing' to each of the children -- a practice that I urge on all fathers or mothers, whether happily married or not.
If you know of any single moms in your parish or circle -- please don't isolate them further than they already feel isolated. There probably is some worry about bringing a newly single woman into your happy or normal family situation. Pray about it -- talk it over with your spouse and then open your doors as Mary in Nazareth would have done.
And if any man happens to be reading this column -- let me share something from recent days of traveling. I saw a billboard sign in the midwest as we returned from our recent trip to babysit those wonderful kids. The sign said, "Change Your Life... Not Your Wife."
Or as it is said these day, "Man Up!"
Copyright 2011 Deacon Tom Fox
About the Author

Deacon Tom Fox and his wife Dee are co-hosts of the CATHOLIC VITAMINS Podcast for over 6 1/2 years. Tom has also been a member of the Catholic Mom columnists team for eight years, and was a regular contributor to the Catholic Moments Podcast for three years. Most recently, Deacon Tom has been leading a project to bring Catholic radio to the north central Arizona community where he and Dee reside. Blessings!