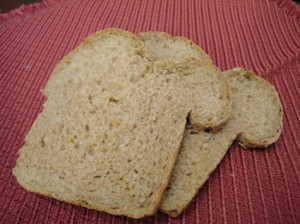 I've been working hard to find the perfect homemade whole wheat bread lately, and so far, this recipe is the winner.
From my husband at dinner tonight: "Oh, my gosh, this is good bread." I wish I would have taken a picture of his super thickly sliced, toasted, garlic-salted bread. It was just gone too fast!
I was stubbornly eating mine as "just bread" because it was so soft that I felt it was a shame to toast it like our dense breads require. He kept bragging and said it reminded him of Texas toast, and I finally snitched a little bite. Oh, heavens!
An inch thick, crispy crusty crunchy on the outside yet remaining incredibly soft - so soft! - on the inside, and perfectly seasoned. I almost stole it and traded him for my boring buttered bread. My self-control ruled and I resigned to dipping my bread in chicken noodle soup, which wasn't half bad.
The original recipe is from Tammy's Recipes, although of course I tweaked it a bit.
Ingredients:
1 c. room temperature water
1 Tbs. plain, full fat yogurt
1 tsp. salt*
2 Tbs. softened butter or coconut oil
3 Tbs. honey
a sprinkle of ground ginger
a pinch of citric acid
3 1/4 c. whole wheat flour (I used hard red spring wheat)
2 tsp. SAF instant yeast*

*withheld in soaked version until final mix
Method:
I was happy to use the bread machine for this recipe. Put the ingredients into the machine in the order listed and run the dough cycle, which takes two hours. (20 minutes of warming up, 20 minutes of kneading, about an hour to rise and then a punch down and another short rise)

When the dough cycle completes, use floured hands (or deal with the stickiness, which is what I usually do in laziness) to form a loaf shape. Place the dough in a buttered pan and allow to rise, covered, for 30 minutes. This dough rises quickly! You might want to set your timer for 20 minutes and use the last 10 to preheat your oven to 350 degrees F. Bake the dough for 30-35 minutes until the internal temperature is 200F.
If you'd like to see how I think about baking bread, including thoughts on dough conditioners and gluten, and also how to adapt a breadmaker recipe for hand-kneading or other machines, see HERE. Tammy also makes this particular recipe (her way) without a machine, so you can check out her original directions here.
I am totally thrilled with how well this bread folds in half like store bread! It is truly so soft, and putting peanut butter on a piece and snapping it shut like my mom prefers her sandwiches is a great joy. It stayed soft and supple for a few days stored in a plastic bag.
To soak this bread, simply leave out the yeast and salt, mix together the other ingredients with a wooden spoon in the bread machine, and allow to sit overnight at room temperature. Add the yeast and salt and run the dough cycle.
If you're unsure that your bread machine can incorporate dry yeast into already mixed dough, you can hold out 1/4 cup of water and a Tablespoon of honey from the soaked mixture as well. "Proof" the yeast in that for 5 minutes, then add the liquid to the dough and allow the machine to do its job. If you're kneading by hand, you'll certainly need to use this method.
Not sure what soaking grains is all about? It's just a way to make your bread more easily digestible and ultimately better for you. Learn more about soaking grains if you're interested.

This recipe is a must-try. If you don't have a bread machine, remember that you can fairly easily adjust the recipe using the bread machine to hand kneaded dough tips. If you'd like to see what I've been up to, you can check out my successes and failures in the Seeking the Perfect Homemade Whole Wheat Bread series.
Copyright 2011 Katie Kimball
About the Author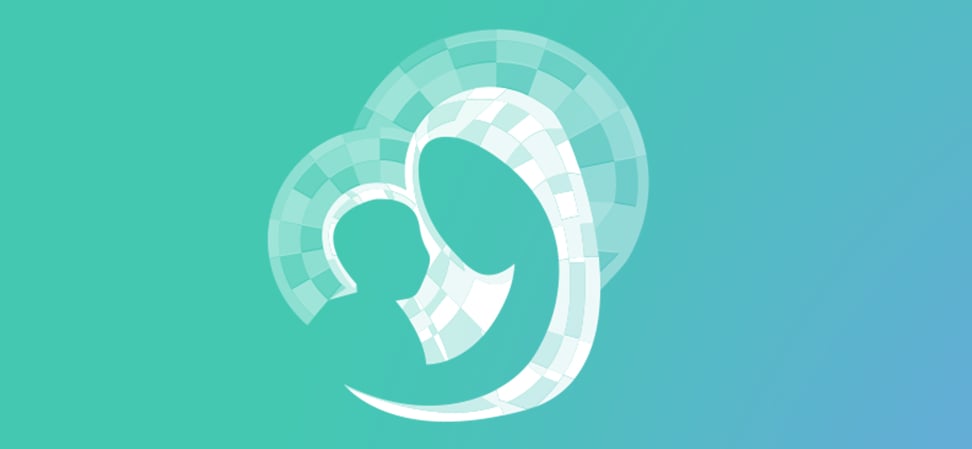 We welcome guest contributors who graciously volunteer their writing for our readers. Please support our guest writers by visiting their sites, purchasing their work, and leaving comments to thank them for sharing their gifts here on CatholicMom.com. To inquire about serving as a guest contributor, contact editor@CatholicMom.com.