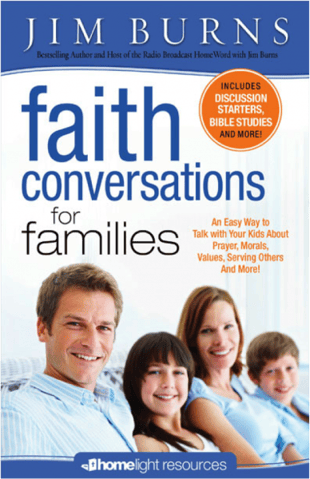 Today, I'm thrilled to share my recent conversation with Christian author Dr. Jim Burns, whose many books for families help to support us in our most important work - the raising of our children. In this interview, we take a closer look at Jim's recent book Faith Conversations for Families: An Easy Way to Talk to Your Kids about Prayer, Morals, Values, Serving Others and More.
Q: Thank you for being a part of this book spotlight interview and for your work in support of Christian families. Would you please introduce yourself and your family to our readers?
I am the President of HomeWord and Executive Director of the HomeWord Center for Youth and Family @ Azusa Pacific University. I have been married to Cathy for over 30 years. We have three daughters who have now graduated from college and two of the three have boomeranged back to be living with us!
Q: What motivated you to write Faith Conversations for Families and how does this book differ from and build upon your previous books for families?
It's a very important and practical book for me. Recent studies tell us that at least 50% of this generation of kids will leave the church after high school. However, there is a 300% better chance they will stay in the church if they had "faith conversations" on a regular basis in the home growing up. Most parents deeply desire for their children to stay strong in the the faith but many parents don't proactively have those faith conversations in the home. So this book is divided into 52 sections with over 150 ready to go faith conversations a parent can have with their children. Kids learn best when they talk, not when we lecture or preach. The faith conversations are geared toward creating dialog and building up each other's faith.
Q: I love the idea of promoting dialogue between families! What advice do you have for mothers or fathers who may find that their spouses of family members are hesitant to or even negative about beginning conversations around faith topics?
Don't nag them to do it but rather start perhaps with the faith conversations that discuss healthy sexuality or drug and alcohol abuse. They may end up being drawn into the dialog because they do desire for their kids to make wise decisions about the morals and values of life. If they absolutely won't do it, then take the lead and still have those conversations. It's pretty amazing how sometimes out of the clear blue a non involved parent will jump into the conversation or the kids will ask the parent to be involved and they "do it for the kids."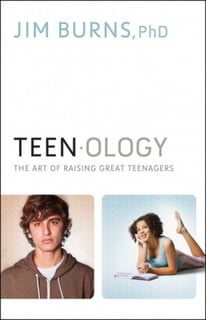 Q: With the advent of so much technology in our society today, how do you feel that tools like Facebook are enhancing and detracting from family time? What guidance would you give parents on tech issues and teens?
Facebook is here to stay. It's a part of the social environment for a majority of kids. Recently I was speaking to a large group of middle school and high school students. I asked how many of them thought it was possible to become addicted to Facebook and texting. Literally all the hands went up. Then I asked how of you are addicted to Facebook and texting, may I just say very few hands went down!
Parents must become students of the culture. In my book, Teenology: The Art of Raising Great Teens, I tell parents in the chapter on "Creating a Media Safe Home" that parents must listen to what they listen to, watch what they watch, and read what they read. This includes Facebook and social networking.
Q: You promote the concept of service to others. How can a family with little ones become involved in the baby steps of volunteering in the Church or community?
Just do it. When our kids were little my wife brought them to a woman's shelter and we helped cook the Thanksgiving meal. We took our children at a young age to an orphanage in Mexico. When they were really young they observed and played with the children, as they grew into the teen years they volunteered and service projects. Serve together as a family. Make it a part of the family DNA. And frankly, when they become teens don't be surprised if they lose their excitement for it and then regain it as they get older.
Q: What at the most important concepts you hope readers will take away from this book?
One of our jobs in life is to "impress faith to our kids." (Duet. 6:4-9) It doesn't have to be through lecture of memorization it is usually best done casually and with dialog. One of our main opportunities and yes, responsibilities as a parent is to help our kids find and develop a Mission (purpose), Mate (healthy relationship), and Master (meaningful relationship with Jesus).
We do it best through bringing faith conversations inside the family.
About the Author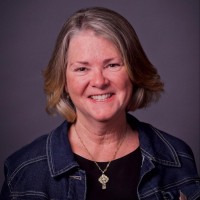 Lisa M. Hendey is the founder of CatholicMom.com, a bestselling author and an international speaker. A frequent radio and television guest, Hendey travels internationally giving workshops on faith, family, and communications. Visit Lisa at LisaHendey.com or on social media @LisaHendey for information on her speaking schedule or to invite her to visit your group, parish, school or organization. Visit Lisa's author page on Amazon.com.