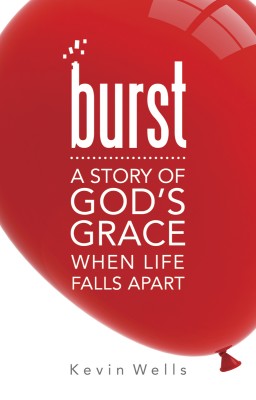 It first caught my eye in the bookstore at the Basilica of the National Shrine of the Immaculate Conception - that bright cover, the bold title: Burst: A Story of God's Grace When Life Falls Apart. But since I was in a rush that day, I didn't stop that day to read Kevin J. Wells' book, although it continued to be high on my radar. Actually, it's a good thing I didn't pick it up there in that DC shop - if I'd started reading Burst that morning, it's likely that I would have ended up buying the book, curling up in a corner of the store and spending the rest of the day devouring it right there on the spot. In actuality, when I did get my copy, that's exactly what I did - I literally couldn't put Kevin's book down. So be forewarned - you'll likely have the same reaction.
While it begins in gripping fashion with the story of Kevin Wells' personal health crisis, Burst is more than simply his memoir. Written in a voice that is at once compelling and accessible, Burst is a book for all of us -- those who have struggled majorly, and those of us who fall prey to life's daily roadblocks. Kevin is the friend we all wish we knew personally, and through what he shares in Burst he becomes a spiritual companion who is able to help us draw closer to God and our loved ones without ever sounding preachy or judgmental. This is a book you can hand to your husband, your non-Catholic neighbor or your teen, and your personal copy will likely end up as dog-eared and highlighted as mine is...it's that good.
Today, I'm happy to share my conversation with Catholic dad, husband and author Kevin J. Wells and to give Burst: A Story of God's Grace When Life Falls Apart my highest recommendation. Go buy it now and start making a difference in your life, our Church and our world.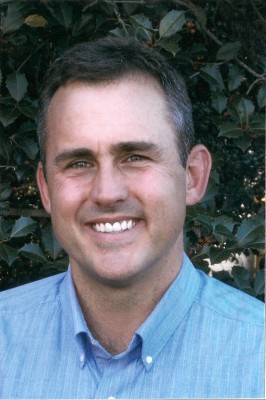 Q: After having read and been so moved by your book Burst, it's truly an honor to welcome you to CatholicMom.com Kevin. Would you please begin by sharing with our readers a bit about yourself and your family?
A: Thank you very much Lisa for your interest in my memoir. I was a lucky guy to meet my wife Krista when I was a sportswriter in the heart of Florida. We married 12 years ago. God has blessed us with three children, Gabby, Sean and Shannon. After 10 years of writing professionally, culminating as a major league baseball beat writer, I decided to ignite a more "travel-normal" lifestyle and joined our three-generation family business of masonry contracting back in the suburbs of Washington D.C. where I was born and raised. I am active in prison ministry and work as a freelance writer - and when Krista isn't on the back of her horse, "Bella", she's busy raising our children.
Q: Burst is so much more than simply the story of your near death experience, but the book takes off running from the very beginning with that compelling moment in your life - can you tell our readers briefly what happened that night, and how that moment and the culmination of your other life experiences prompted you to write Burst?
A: At around the stroke of midnight on January 2, 2009, a part of my brain, essentially, exploded. I was rushed to the hospital where surgeons attempted, unsuccessfully, to repair the arteriovenous malformation in my cerebellum that had burst and bled out. After a week or so of terrifying events - and when the walls of my life seemed set to close - God pushed back. Two people - one a Catholic priest and a close friend - witnessed what many around these parts call an authentic miracle. My darkened ICU room lit up in lights for a sustained period of time as a priest (and good friend) prayed over me, asking for the intercession of my deceased uncle, Msgr. Tom Wells, who had been murdered. In the aftermath of the surgery while in an extended recovery (bored to death, but very thankful for a beating heart) a slew of thoughts kept bubbling up: one was that God could love me ferociously - and that these anvils that had landed throughout my life were often like postcards dropped from heaven, offering me invitations to move closer to God's will for me. It's the same, of course, for all of us. In the brokenness of my life - physical pain, infertility, alarming fraud and the murder of a best friend - Christ's measureless love and graces were always there to lift me from the ground and embrace me.
Q: Burst is not your first writing project, and the gift of your writing is so clear in this book. But how does writing on topics of faith go beyond the professional writing you did in the past? Was it more or less difficult to share such personal moments in your life?
A: I guess when you write a memoir, you're required to decide whether to take the straightjacket off partially or to drop it to the floor completely. I would have felt sort of silly not going full-bore with some of the more personal parts of my life. I'm Irish and I love to tell stories; the story of Burst is just a little more intimate, which wasn't always easy to write. It's a heck of a lot easier to write about Yankees shortstop Derek Jeter hitting a ninth-inning homer than writing about the cross of infertility.
Q: Since so many of our readers are Catholic moms, I want to ask specifically about your lovely wife Krista. How has she been a rock for you in the aftermath of your struggles and how has her faith and love supported you along your path through life?
A: The moment Krista entered the hospital on that awful night, she never departed. For the two weeks when many thought I would die, Krista slept nightly on an uncomfortable chair outside my ICU room and tended to me during the daylight hours. She showed me the truest meaning of love - sacrificial love - the greatest love. Her unremitting prayers, her soft touch and her strength throughout that time inspired me to fight my own pain and discomfort. Without Krista, I've often thought that I may have died. The only time she left my bedside was when doctors required it. For the four months of my recovery, she was my rock, balancing a husband with really bad headaches with the blizzard of our children's obligations. I know of no stronger woman than Krista. A steady prayer life, her Catholic faith and boundless sacrificial love have chiseled her into that wonderful person she is.
Q: In this book, you share not only your own stories, but also those of loved ones and others you have encountered. Could you please share a few of these special people with us and let us know how their lives have impacted upon yours?
A: My uncle Msgr. Tom Wells is mentioned prominently in Burst. Because of his warmth, humor and charisma, he had more friends than anyone I know. He'd be invited to someone's home for dinner 250 times a year. One night from the deck of his rectory, he changed the complexion of our lives when he explained the meaning of the cross - and how Krista and I should embrace the wretchedness of our infertility instead of choosing IVF. In three or so hours of explaining the mystery of the cross, he had unlocked the doorway to our peace. Two days later, in a gruesome event that shocked the Washington D.C. metropolitan area, he was murdered in that same rectory by a drug-addled, homeless man. I also discuss my lively family of 10 and my parents, who set the blueprint of my faith life from an early age. My childhood hero - Orioles Hall of Fame first baseman Eddie Murray - is also introduced for an extended part of the book, for some levity.
Q: Please say a few words on the place of Ignatian spirituality in your own faith life and also how you persist and persevere in your own walk towards heaven despite life's inevitable moments of pain and struggle.
A: For the 20-plus years I've visited a Jesuit retreat house on a gorgeous cliff side of Maryland, I've participated in Igantian contemplation - which came in handy during my hallucinations and wordlessness in the hospital. When my arms were tied down and I felt broken and beyond repair, I'd enter into the contemplative exercises the Jesuits had taught to calm my terror. I would repeatedly picture myself in a sun-splashed meadow while slumping my broken body against Christ's body, where I'd rest my head on Jesus' lap. Lightly, Jesus would place his hand on my seven-inch scar, and when I'd get the strength to look up at him, he was always smiling down at me. Time after time in the contemplative exercises, I've "seen" first-hand how Christ leads us by the hand through our greatest moments of terror and pain and into a place of peace - closer to his love, mercy and abundance.
Q: Not everyone will have to overcome a brain injury, but we each have moments of difficulty in our own lives. What do you hope readers will take from their experience of reading Burst and how has it changed you as a man, a husband, a father and a Catholic?
A: I would hope in Burst that readers will come away with the thought that Christ often allows certain pains and powerlessness to draw us closer to him. There are times when we have to simply drop our armor and fears and say, "God, it's all yours now." It's then that his salvific graces flow. Life is not all bountiful harvest, and in the many trials I've encountered, I've come to realize that these pains were the very invitations that God was providing me to live and love as he did. My faith in Christ's mercy and care has become amplified in the aftermath of my hurts - and because of that I have grown more intimately with him in my Catholic faith --- and really, isn't that what's all about? I need him now in a different way – I meet him at Holy Hours, in when I perform small acts of daily sacrifice for Krista and my children and in how I try to radiate his love into the world.
Q: Are there any additional thoughts or comments you'd like to share with our readers?
A: When my brain surgery failed and there was little life left in me, I contemplated two things: judgment and my past. I realized then – perhaps an hour or so from sitting across God to discuss matters in the afterlife – that I could have loved better. Sad thought, huh? When death seemed immanent, I wasn't considering my sins of commission, but rather, sins of omission. Now that I am well, I am doing my darndest to love Krista, my children, friends, co-workers, etc., the way I think Christ would have me do so. Life certainly is precious. It's probably not a bad idea to live and love to the fullest – while letting Christ lead the way.
Order Burst: A Story of God's Grace When Life Falls Apart and support CatholicMom.com with your purchase
About the Author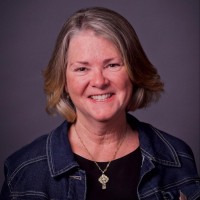 Lisa M. Hendey is the founder of CatholicMom.com, a bestselling author and an international speaker. A frequent radio and television guest, Hendey travels internationally giving workshops on faith, family, and communications. Visit Lisa at LisaHendey.com or on social media @LisaHendey for information on her speaking schedule or to invite her to visit your group, parish, school or organization. Visit Lisa's author page on Amazon.com.