I don't remember the exact day it happened, but I do remember that my very first acquaintance with the spiritual heroism of Venerable Father Stanley Rother came to me in a conversation with my dear friend and writing mentor María Ruiz Scaperlanda. María, who has been a regular contributor here at CatholicMom.com since 2012 and blogs regularly at Day by Day with María, shared with me that she'd been invited by Archbishop Coakley of Oklahoma City to pen an amazing biography. As I listened to her give a thumbnail sketch of Father Rother's life and legacy that day, I couldn't wait to dive in and learn more.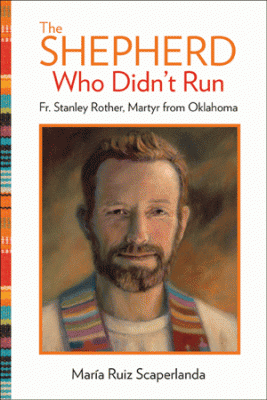 Blessedly, thanks to María and her colleagues at Our Sunday Visitor, we now have a definitive recounting of Father Rother's life story. Penned in cooperation with both the Archdiocese behind his cause for canonization and Father Rother's family, this book is part historical account, part spiritual booster shot. In my endorsement for the book, I wrote:
In her tremendous new book The Shepherd Who Didn't Run, Father Stanley Rother, Martyr from Oklahoma, María de Lourdes Ruiz Scaperlanda brings us into close encounter with a heroic priest who will, God willing, soon be a canonized saint. We learn of Father Stanley's valiant heroism in the moment of his martyrdom, but also of his life of service to a Church he loved and to her people, who greatly loved him for showing them the path to Christ. Reading this book helps each of us to answer the calling to a life of service in our own unique mission fields. A highly inspirational introduction to an amazing spiritual shepherd.
Today, I'm happy to share my recent interview with María Ruiz Scaperlanda. I urge you to discover this book and Father Stanley's life for yourself!
María Ruiz Scaperlanda on Father Stanley Rother:
In the past 30 years, María has been published broadly in the U.S., including the New York Times, Our Sunday Visitor, St. Anthony Messenger, Columbia, and other national and diocesan publications. Maria's work as a Catholic journalist has taken her on international assignments in Central America and the Caribbean, the Middle East, and throughout Europe. But perhaps her favorite assignment was covering Pope John Paul II's historic visit to her native country, Cuba.
Her primary life-time assignment, however, has been as wife to Michael for 34 years, mother to four grown children—and now "Bella" to six adorable grandchildren!
Q: María, thank you for being such a special part of our CatholicMom.com family and for penning this amazing spiritual memoir, The Shepherd Who Didn't Run! I recall a personal moment with you at the outset of your work on this book. Please share with our readers how you became involved with this special project.
I have to begin by saying thank you so much for your interest, Lisa! I am so blessed by your support and your enthusiasm about my book, and about me and my writing. You are a great spiritual mentor to so many people, and I am blessed to be one of them.
I was a part of the Historical Commission organized by the Archdiocese of Oklahoma City. This is the group that collected information on Father Stanley and prepared a report to send to the Vatican requesting to open his Cause for Canonization. A year after our work was completed, our group traveled to Guatemala and made a pilgrimage to Santiago Atitlán the parish and village where Father Stanley lived and where he was killed. On that trip I also met our new Archbishop, Paul S. Coakley. And it was Archbishop Coakley who invited me – and commissioned me, to write the book!
Q: For those who are unfamiliar with the story of Father Stanley Rother, would you please provide a brief overview of his life and legacy?
Father Stanley Rother was born in Okarche, Oklahoma, the oldest of five children in a Catholic, German farming family. Four years after becoming a priest, Father Stanley went to Guatemala as a missionary for the Oklahoma Mission to the Tz'utujil Mayan Indians in Santiago Atitlán.
When the violence of the Guatemala civil war made its way into the remote, peaceful village of Santiago Atitlán, disappearances, killings and danger became a daily occurrence. But Father Stanley remained focused on his ministry as pastor, working with his parishioners to build a farmers' coop, a school, a hospital, and the first Catholic radio station, which was used for catechesis to the even more remote villages.
In 1981, with his name on a death list, he returned to Oklahoma and was warned not to go back to Guatemala. But Father Stanley could not abandon his people. He returned in time to celebrate Holy Week with his parishioners that year—and ultimately was killed for living out his Catholic faith. In one of his final letters, Father Stanley explained, "The shepherd cannot run at the first sign of danger."
Q: The book is quite detailed and conveys many rich elements of Father Rother's impact upon the community he served in Guatemala. What research went into telling this story?
A lot of reading! It involved looking through and examining boxes and boxes and boxes of material, interviews, books, and historic data – in both English and Spanish – in order to learn not only about Father Stanley and his life, but also about the world in which he lived, both here and in Guatemala.
On my pilgrimage to Guatemala for the 30th anniversary of Father Stanley's death I also interviewed people in Santiago Atitlán and the surrounding region who knew him—or who are devoted to him. As one nun I met said to me, the Church in Guatemala is not waiting for an official declaration of Father Stanley's sainthood. They already know he is a saint, and they regularly go to him with their special petitions!
Q: Did you encounter any stumbling blocks in the writing process? What helped you to persevere?
I committed to research and write the book in one year. It was my idea, in fact, because I don't like projects that go on forever! But during that year I had a lot of major life events that affected me personally and made it very difficult for me to work. My father's health suddenly began declining, demanding several hospitalizations, while at the same time my best friend was dying of brain cancer—and I was trying to spend as much time as I could helping her and her family. I felt like a yo-yo going back and forth from one emergency to the other, with very little time to recover, let alone catch my breath.
I basically started reminding God in my prayer, just in case he forgot, that we had a book to write!
A friend gave me the best advice possible when she suggested that I bring Father Stanley into my crazy, demanding life—just let him walk with me. I feel like that's the moment everything shifted, and Father Stanley and I became closer. When I was able, eventually, to get serious about my writing, I know that it was precisely those difficult experiences that gave me an insight into Father Stanley's life in Guatemala—and into the painful emotions he must have felt trying to take care of his people.
Our God is, after all, a God of details! And I am convinced that the depth of Father Stanley's story became real to me precisely because of the difficult year that I had leading up to the final writing push. Oh, and by the way, I did have to ask the archbishop for a six-month extension in order for the project to be finished!
Q: What are your hopes for this book and for Father Rother's cause for canonization?
I do hope that the book serves as an introduction to Father Stanley and to his beautiful story to many people who don't know or haven't heard of him! Although I am constantly amazed to hear about what people do know of him, both here and in Guatemala!
As far as canonization –we had a huge step forward in the process this summer! A meeting of the Theological Commission discussed the case of Father Stanley Rother and gave a majority vote stating that his death was martyrdom in odium fidei (in hatred of the Faith). The Cause is now with a panel of 15 cardinals who are members of the Congregation of the Causes of Saints. Once the panel of cardinals agrees with the Commission, his Cause as a martyr would be presented to the Pope for his approval. At that point he would be declared Blessed, which is the step right before sainthood!
Father Stan would be the first male-born saint from the United States, and the first martyr!
Q: Very few of us who will read this book will be called to serve in such a dramatic fashion as Father Rother was, but each of us are called to a mission of our own. What can we learn from Father's courageous witness?
That's funny, Lisa, because just tonight, at a presentation at a nearby parish, I brought up this exact point. You and I are in sync!
Although the details are different, I believe the call is the same—and the challenge is also the same. Like Father Stanley, each of us is called to say 'yes' to God with our whole heart. We are all asked to see the Other standing before us as a child of God, to treat them with respect and a generous heart. We are called to holiness—whether we live in Okarche, Oklahoma, or New York City or Guatemala City.
I've also been thinking a lot about how well Father Stanley's life and his story exemplifies this Jubilee Year of Mercy. He is truly a saint of mercy! He fed the hungry, sheltered the homeless, visited the sick, comforted the afflicted, bore wrongs patiently, buried the dead—all of it. But he didn't do the corporate and spiritual works of Mercy only during the crisis in Guatemala. He lived Mercy wherever he was—in the seminary, in the farm, in an Oklahoma parish… this is what God hopes for each of us.
Q: What comes next for you personally and professionally?
One thing that keeps coming up wherever I speak about Father Stanley is that we need a Spanish version of this book. I don't think I'm the one to do it, but I do want to get that translation project started this year!
Other than that, I don't know what my next book will be—not yet.
Q: How can our readers learn more about and support the cause for canonization for Father Stanley Rother, Servant of God?
I humbly request that you all join us in praying for Father Stanley's canonization. You can do so on your own, or with this prayer:
Heavenly Father,
source of all holiness,
in every generation you raise up
men and women heroic in love and service.

You have blessed your Church
with the life of Stanley Rother,
priest, missionary, and martyr.
Through his prayer, his preaching,
his presence, and his pastoral love,
you revealed Your love and Your presence
with us as Shepherd.

If it be your will,
may he be proclaimed
by the universal church
as martyr and saint,
living now in your presence
and interceding for us all.

We ask this through Christ our Lord.Amen
To learn more about him, there are several good sources of information online. Here are two:
Q: Are there any additional thoughts or comments you would like to share?
I just want to say thank you, Lisa, for allowing me the opportunity to share with your readers about the saint from Okarche, Oklahoma—our American martyr!
Order The Shepherd Who Didn't Run: Fr. Stanley Rother, Martyr from Oklahoma at Amazon and support CatholicMom.com with your purchase or purchase the book at Our Sunday Visitor
Visit María Ruiz Scaperlanda at her blog, on Twitter, or at CatholicMom.com
Copyright 2016 Lisa M. Hendey
Images courtesy of María Ruiz Scaperlanda
About the Author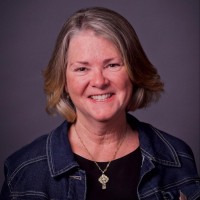 Lisa M. Hendey is the founder of CatholicMom.com, a bestselling author and an international speaker. A frequent radio and television guest, Hendey travels internationally giving workshops on faith, family, and communications. Visit Lisa at LisaHendey.com or on social media @LisaHendey for information on her speaking schedule or to invite her to visit your group, parish, school or organization. Visit Lisa's author page on Amazon.com.