In these hard financial times, one of the greatest sacrifices we made turned out to be the greatest blessing. I was very upset to find myself pregnant and unable to see my usual, pro-life obstetrician because of our insurance changes. The new, low-budget, government-assisted insurance continually pointed me to a pro-choice clinic that put me in line to talk to a nurse so I could talk to a doctor weeks later. Already almost 3 months pregnant, my regular doctor began running tests and found that I had some serious complications and needed to get prenatal care ASAP. The clinic's biggest concern was that I was missing my window for "genetic counseling", which translates to being able to get an abortion. The distress of feeling like I could not take care of my unborn child, could not get the medical care I needed, could not find a pro-life option, was overwhelming.
Two friends urged me to investigate a new doctor at a new place, Gianna , the National Center for Women's Health and Infertility at St Peter's University Hospital. I was so generally discouraged that I was sure that they would not take my insurance. One friend called Dr. Beiter's wife for me. He quickly called me and discussed my initial test results with me, putting my fears to rest. Then, we discovered that he just started accepting my plan the week before that. God had answered my prayers.
The Gianna Center was new and unique. It provides women's reproductive healthcare in a way that is totally congruent with Catholic Social Teaching and incredibly respectful of unborn life. From the latest research in Natural Family Planning, to treatment of infertility, recurrent miscarriage, and other reproductive issues such as PMS or ovarian cysts, the doctors at Gianna prioritize the health and fertility of each woman.
Gianna had begun serving women in New York City in 2009, as part of St. Vincent's Medical Center. When St. Vincent's closed, Drs. Anne Mielnik and Kyle Beiter brought a new Gianna Center to St. Peter's University Hospital in New Brunswick, NJ. These doctors sacrifice considerable income by focusing on natural methods of family planning and infertility treatments instead of turning to pharmaceutical options with harmful side effects and moral dilemmas. They have fought their way through medical school, and the medical community with a vastly different philosophy. They are bringing an immense gift to our Church and our culture. Gianna is an oasis which offers real and practical alternatives to the medical options that otherwise devalue the sanctity of life, sex and marriage: options that may seem like the only option to many suffering women.
NaPro technology looks to the underlying health of both husband and wife, and a woman's natural cycle of fertility to treat infertility with the same success rate of IVF over 2 years (or 5-6 attempts at IVF). More importantly, embryos are not created or destroyed, and the child is conceived through the natural act of marital love. The Creighton Model FertilityCare™ System is the latest development in effective Natural Family Planning which helps a couple avoid or achieve pregnancy without harmful side effects of birth-control pills, surgery, or dangerous IUDs. A recent study published in the Journal of Reproductive Medicine found this method to be 99.5% effective in avoiding pregnancy.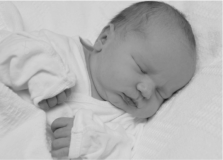 I loved my pro-life doctors in the past, but Dr. Beiter and the Gianna Center have taken the definition of pro-life to a new level. The love for my unborn child and his value was unequalled. The respect for my ability to cooperate with God in giving life, despite my "advanced maternal age" of 39 was refreshing and comforting. The medical expertise that resulted in the birth of a happy and healthy seven-and-a-half-pound Max after numerous pregnancy complications was the best benefit. My husband described the care and attention of the labor and delivery staff at St. Peter's as "luxurious".
I never would have traveled the extra distance to a new doctor if I hadn't found myself desperate for medical care. The desperation was the gift that led us to Gianna. Max and I were some of the first patients of the new Gianna Center at St. Peter's. I hope more and more women and couples choose Gianna so it can grow and flourish. I pray for more doctors and new centers all over our country to offer sound and moral healthcare for women. Optimistically, Max was actually "caught" by resident, Dr. Nicholas Kongasa, who is studying Catholic reproductive healthcare. God bless him in this journey and bless our nation with more holy, prayerful doctors who serve Him and their patients with respect and dignity.
LINKS to find Catholic Reproductive Healthcare and learn more!
http://www.saintpetershcs.com/giannacenter/
http://www.popepaulvi.com/fcco.htm
Copyright 2011 Kate Daneluk
About the Author

Kate Daneluk is a wife, mother of six, and co-founder of Making Music Praying Twice. With a background in music, theology and education, she contributes articles and resources to various publications.