As we busily prepare our Thanksgiving feast, children are well entertained and put to work by helping to set the table. By offering small pumpkins, gourds, fruits and nuts, a bountiful centerpiece can be created. Younger children can contribute crafts from hand turkeys to pilgrim hats made from toilet paper and paper towel rolls, construction paper and paste.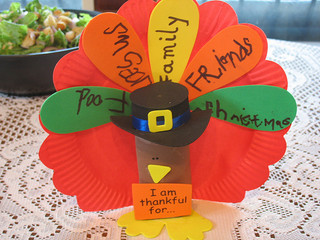 All of this puts us in the Thanksgiving mood. But consider some décor that could help us truly remember the Thanksgiving spirit. By including thankful scripture quotes, we help our guests to remember Whom we are thanking.
Children can print quotes in fancy fonts and embellish with markers, fall leaves, and construction paper to make placemats. (Use contact paper if you plan to save them)
With the help of the ever-useful paper-towel rolls, create individual napkin rings. Each guest can read their scripture quote at the table!
If you have a large roll of butcher paper, a runner can be created filled with handwritten Scripture quotes and personal prayers of thanks by all the guests.
A talented teen or tween may practice some calligraphy skills for more mature decorations.
Print smaller Bible quotes and tape to the stem of wine glasses. Learn your quote and avoid losing your glass!
Some families create a "gratitude tree". Give guests ornaments with Scripture on one side and room on the other for their thankful prayers.
Here are a dozen short verses to get you started*:
Give thanks to the LORD, for he is good, his mercy endures forever. - Ps 118:1
I may praise God's name in song and glorify it with thanksgiving. – Ps 69:31.
Hallelujah! Give thanks to the LORD, who is good, whose love endures forever. – Ps 106:1
Sing to the LORD with thanksgiving; with the lyre make music to our God. –Ps 147:7
Everything indeed is for you, so that the grace bestowed in abundance on more and more people may cause the thanksgiving to overflow for the glory of God. – 2 Cor 4:15
You are being enriched in every way for all generosity, which through us produces thanksgiving to God, for the administration of this public service is not only supplying the needs of the holy ones but is also overflowing in many acts of thanksgiving to God. – 2Cor 9:11,12
For everything created by God is good, and nothing is to be rejected when received with thanksgiving. -1Tim 4:4
Give thanks to the LORD, for he is good, for his kindness endures forever. - 1Chron 16:34
Enter his gates with thanksgiving, his courts with praise. Give thanks to him, bless his name – Ps 100:4
Give thanks to the LORD, acclaim his name; among the nations make known his deeds, proclaim how exalted is his name. – Is 12:4
And whatever you do, in word or in deed, do everything in the name of the Lord Jesus, giving thanks to God the Father through him. – Col 3:17
In all circumstances give thanks, for this is the will of God for you in Christ Jesus. – 1 Thes 5:18
*All verses are NAB.
Please share your ideas for ways to incorporate Scripture into your holiday décor. And post pictures of your children's masterpieces!
Copyright 2013 Kate Daneluk
About the Author

Kate Daneluk is a wife, mother of six, and co-founder of Making Music Praying Twice. With a background in music, theology and education, she contributes articles and resources to various publications.