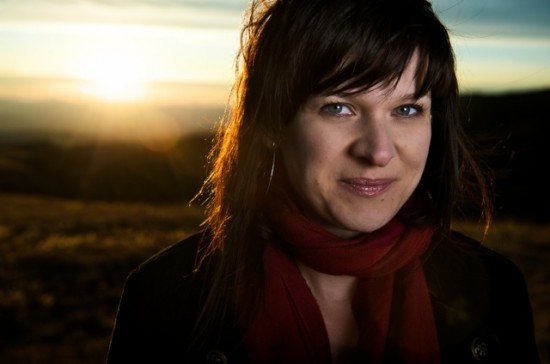 The musicians who live in my house probably dream sometimes about having a mom as cool as Catholic rocker Joia Farmer. This amazing mom of four, a pro-life advocate, musician and speaker has done an amazing job of using her God-given talents to spread faith and joy to so many. I'm happy to share my recent conversation with Joia and hope you'll enjoy and purchase her music to support her fantastic apostolate.
Q: Hi Joia and welcome to CatholicMom.com! Please introduce yourself and your family to our readers.
Hello Catholic Moms everywhere!! My name is Joia Farmer and I am a wife, mom of 4, program director at a pregnancy clinic and a rocker/evangelist to young people in my "spare" time.... My husband Brad is the co-founder of APeX Ministries in which he juggles and ministers all over the country. I am blessed with 4 incredible kids: Jack, 9 - Ava, 5 - Caedmon, 5 - Simon, 15 months.
Q: How did you get involved in music? Has it been a lifelong passion? How did you decide to pursue music ministry, using your gifts to glorify God and lead others to him?
My first solo was at the tender young age of 3...and it was "Pass it On"...and my mother had to hold my hand onstage...and we were wearing matching dresses. Luckily, I've come a long way. However, the passion to sing has definitely been a lifelong one. My dad was always the choir director and youth pastor at a local baptist church and forced us to participate in the church choir. In high school my love of music really took off, under the incredible mentorship of my choir director. It was there that I realized this was something I wanted to do and I had fun doing it. After high school, I pursued a variety of musical projects - ended up moving to New Jersey and was in an award-winning all-female a capella group and also a heavy rock band. The paradox of that never escaped me. However, at that time in my life, glorifying God was the furthest thing from my mind as I had been agnostic for many years. It wasn't until I reconnected with a good friend from college - who was a devout catholic AND my future husband - that I realized I was missing a big piece of life. Soon after being confirmed as a Catholic, I shared my story and music at a work camp in Washington, D.C. The rest was history...
Q: What have been some of the highlights of your musical journey?
I think my first highlight was recording my first CD. It was something I did not know was possible...and I grew exponentially during that process. However, in most recent memory, it was penning the theme song for the 2009 National Catholic Youth Conference "Christ Reigns." Performing in front of 20,000+ young people and youth leaders - all while being 5 months pregnant with my son - brought everything into perspective for me. I see those young people as leaders for my children...and my passion is their journey to Christ.
Q: Your song Christ Reigns is an anthem for so many - please tell us about this song, and generally how you go from the spark of an idea to a full song?
The invitation to write the song came in the form of an email. Immediately, I wrote it off (pun intended) thinking I didn't have time or resources to put something together. I began mulling over the theme and thinking how crucial this message is to young people. In a world where we put everything else on the throne, a reminder that we, all of us, have to let Jesus reign in our lives to find happiness was an important message. Shortly after this, our family was in Louisiana visiting friends and doing a bit of ministry. And that's when God spoke loud and clear...in the shower...in between rinses...that the chorus came to me. I suffer greatly from "Mommy Brain" and had to keep singing it over and over to make sure I didn't forget it...JUMPED out of the shower...and grabbed my trusty iPod and recorded it. The song pretty much wrote itself...as have most of the songs I have written that come to me that way. Though the shower was a first. The Spirit has always been pretty direct in songs that I must write...and is generally relentless. I've learned to listen and obey. From the spark of an idea ... to the song itself is really the work of fellow musicians and hours of thought. Most of my songs really come together in the studio...but equally, I've had songs completed in the quiet of my rooms or in a friend's living room.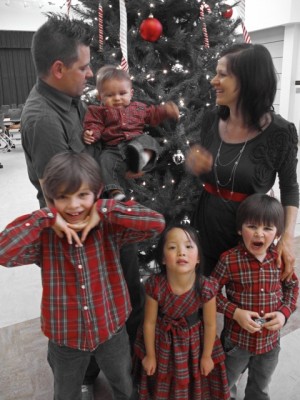 Q: You have a beautiful family! How do you balance being a busy wife and mom, being a busy Program Director in a crisis pregnancy center, and pursuing your music?
Balance is a huge thing for me. My vocation as a wife and mother is the most important thing - hands down. It is THE most important job I will ever have and I recognize that. Since my husband is itinerant and travels the country quite a bit, I know my kids need me to be there. I generally only take one out-of-town show a month and for those times that I do travel, my in-laws live 4 minutes from our house,thanks be to God, and take their vocation as grandparents seriously. As far as the clinic goes, that literally fell into my lap. It was advertised in the church bulletin and I knew that ministry was for me. True Care Women's Resource Center is open only 3 days a week on Tuesday, Wednesday and Thursday, as all of our services (pregnancy test, ultrasounds, STD tests and treatment) are free. We, as a family, are committed to fighting for life in any way, and we all know that the clinic is our way - our connection - to that fight.
Q: What do the kids think of having a mom who is a rocker? Are they musical too?
This made me giggle just a bit. My kids were at a recent show in Washington, D.C. and as I took the stage, my husband actually had to say "Kids, put down your video games and watch your mother do the Hokey Pokey." Afterwards, they were trying to write the set list for the following night...which, of course, I accommodated. My 5 year old, Caedmon, has the most musical ability I've ever seen in a little man. He also loves a good hand motion. His performances in pre-school were so hilarious...mostly because he is ALL BUSINESS. He will definitely be our musician...but the rest of the kids have an appreciation for music. Hopefully its from all the living room dance parties we have at our house.
Q: Your husband Brad is in ministry too - can you tell us about his work with APeX and how the two of you mutually support one another in your missions?
APeX is two crazy jugglers. Brad is the cuter one. (I'm a little biased.) Gene Monterastelli is our ministry partner and friend and the other half of APeX. Brad and Gene met in 7th Grade CCD in Casper, Wyoming and there, it began. After college, they put their heads together and created an insane plan to start a juggling ministry - wrote 1/2 hour of material - jumped in their car and drove from Washington, D.C. to Florida for the National Conference of Catholic Youth Ministry. They performed that 1/2 hour and people wanted more. Their comment was "do you want to see it again?" From that show, they had 4...from those shows, they received 16...and it grew from there. They have graced the stage in St. Louis moments before Blessed John Paul II and have performed in 48 states (we're looking at you Delaware and Hawaii) and in 3 countries. I support APeX because their message is a simple one and aided in my own conversion. They recognize that we are all connected as the Body of Christ and the importance of our faith is directly connected to the power of the Eucharist. Brad also sees the brokenness of the young women in his travels and, knowing that I've been to the dark side and back, knows that they need more truth in their lives. We both feel as though God is calling us to do something unique and unconventional and know that He will provide in the midst of the struggle for balance.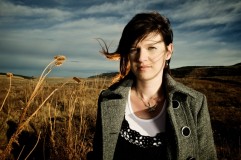 Q: Who are some of your musical influences and your favorite musicians?
Really, I don't think there is enough room on your site for all the musical influences I have. Currently, I am inspired by Adele, Christy Nockels, Josh Garrels, Misty Edwards, Mumford and Sons... See?? It runs the gamut. When it comes to christian music, what I feel most influenced by, I like unconventional music that tells a story in poetry through scripture.
Q: Do you have any upcoming projects you'd like to share?
Right now, one of the projects my husband and I are trying to get off the ground is a little Catholic parenting blog called SaintMakers. We wanted this to be an all-encompassing site for parents (Moms and Dads alike) full of stories, saints, food, music as well as the ups and downs of our life as Catholic parents.
Q: How can our readers support your music and order your CDs?
My latest CD, Until the Sun, can be purchased on iTunes and the other 2 CD's (GoHomeGirl and Before & Afterlife) are available on my website www.joiafarmer.com
Q: Are there any additional comments you'd like to share with us?
Please pray for us in our vocations - both as parents and as "Truth Speakers"... Be assured of our prayers as you hold the all-too-important job of raising Catholic families in today's combative culture.
Visit Joia Farmer at http://www.joiafarmer.com/ and Joia Farmer on iTunes

.
About the Author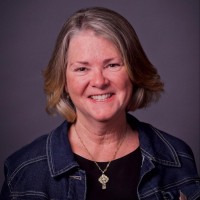 Lisa M. Hendey is the founder of CatholicMom.com, a bestselling author and an international speaker. A frequent radio and television guest, Hendey travels internationally giving workshops on faith, family, and communications. Visit Lisa at LisaHendey.com or on social media @LisaHendey for information on her speaking schedule or to invite her to visit your group, parish, school or organization. Visit Lisa's author page on Amazon.com.