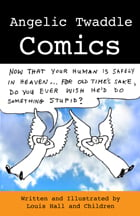 There's nothing I love more than to see a dad together with his kids. In a culture that not only seeks to minimize the roles of fathers in their children's lives, but now works tirelessly to convince us that they're completely unnecessary, it's a delight to see dads who prove the opposite by spending time and effort with their kids.
Louis Hall is one of them. Together with his six children, Hall has written, illustrated, and produced Angelic Twaddle Comics, a 90-page collection of "fun and insightful single-panel comics for ages 10 and up." Hall and his children describe the book as humor with a conscience, an accurate, if not understated, term. Angelic Twaddle is humorous, playful, and well done.
What started as an excuse for a dad to spend more time with his kids ended up being an artistic enterprise. Hall drew the comics, but his children scanned them, conducted digital file management, and assisted with editing, proof-reading, and marketing. Along the way, they learned an awful lot about the world of visual communication.
Hall, a native of Minnesota, graduated with honors from the University of St. Thomas with a BA in Studio Art and completed undergraduate studies at St. John's University (Minnesota). He has 15 years experience as a professional designer, illustrator, photographer, and artist. No wonder his kids are so talented.He and his wife homeschool their children.
The book's introduction is a sample of the flavor of what readers will find inside:
"My children and I take no responsibility for this comic series; we were compelled by unseen forces that we could not resist. We blame this book entirely on our parents, God, and the angels.
"WARNING: The world-view and framework presented by Angelic Twaddle is tantalizing for constructing a complete infallible belief system; please consume moderately."
Hogwash. Consume all you like, and once you've consumed all of it, go back and re-digest it because it'll strike you a new way each time you open it. From the slippery slope of angelic interference as a toddler builds a block tower to the regrets of Black Beard's guardian, Anglic Twaddle explores "Girl Power", "Google Hell" and "Plumber's Butt" all from a wacky guardian angel perspective, andwill get you thinking – and laughing at – the antics of angels as it simultaneously pulls you into the reality of their existence.
The best part of the book, of course, is that it proves that dads and kids can and should work together. Obviously, the Hall children have enjoyed doing this project with their dad as much as their dad has enjoyed doing it with them. With Angelic Twaddle, the Hall Family makes a true statement: Dads are not mythological creatures; they're real human beings who can do wonderful things for and with their children, and Louis Hall is witness to that existence.
Angelic Twaddle will be a fantastic gift for friends and relatives looking for the lighter, more celestial side of life, as well as a blessed indulgence (pun intended) for yourself and your family. At just $9.95, it's also a heavenly bargain.
Hall and his children have a website: www.angelictwaddle.com. They also will accept mail orders; the eBook version is available on Kindle at Amazon.
Copyright 2011 Marge Fenelon
About the Author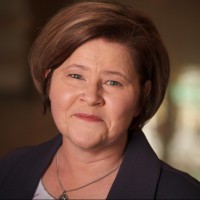 Marge Steinhage Fenelon is a wife, mother, award-winning author and journalist, retreat leader, internationally-know speaker, podcaster, and Catholic media personality. She's author of the best-selling Our Lady, Undoer of Knots: A Living Novena, award-winning My Queen, My Mother: A Marian Pilgrimage Across America, Forgiving Mother: A Marian Novena of Healing and Peace and other books on Marian devotion and Catholic spirituality. Learn more at MargeFenelon.com.