Today is Day 9 of our Marian Novena of Giveaways.
Be sure to enter your name in the comments for a chance to win one of today's great prizes!
Let's bring our vocations to God and ask for the intercession of the Blessed Mother as we celebrate her birth.
Vouchsafe that I may praise thee, O sacred Virgin;
give me strength against thine enemies,
and against the enemy of the whole human race.
Give me strength humbly to pray to thee.
Give me strength to praise thee in prayer with all my powers,
through the merits of thy most sacred nativity,
which for the entire Christian world was
a birth of joy, the hope and solace of its life.
When thou wast born, O most holy Virgin,
then was the world made light.
Happy is thy stock, holy thy root,
and blessed thy fruit, for thou alone as a virgin,
filled with the Holy Spirit,
didst merit to conceive thy God,
as a virgin to bear Thy God,
as a virgin to bring Him forth,
and after His birth to remain a virgin.
Have mercy therefore upon me a sinner,
and give me aid, O Lady, so that just as thy nativity,
glorious from the seed of Abraham,
sprung from the tribe of Juda,
illustrious from the stock of David,
didst announce joy to the entire world,
so may it fill me with true joy and cleanse me from every sin.
(mention your intentions)
Pray for me, O Virgin most prudent, that the gladsome joys of thy most helpful nativity may put a cloak over all my sins.
O holy Mother of God, flowering as the lily,
pray to thy sweet Son for me, a wretched sinner. Amen.
This novena was written by St. Anselm and is usually prayed for the nine days before the Nativity of Mary. [Source: Fish Eaters Forum]
Pauline Books & Media is a Catholic publisher of books, music, digital applications, videos, and so much more. Their goal is to bring you, their customer, to a deeper discovery of hope -- the hope that comes from within the uplifted human heart, the hope that comes from finding the truth, the hope that comes from knowing that God has only our good at heart. This is their guarantee and their prayer. They invite you to discover the joy and peace of this abiding hope within the pages of their website.
Leave a comment today and you will be entered to win one of these great items from Pauline Books & Media:

Christine Virginia Orfeo, FSP; illustrated by Julia Mary Darrenkamp, FSP
My First Book about Mary provides a perfect introduction to the importance of the Blessed Mother in the life of a Catholic child. Young children are invited to discover the love Mary has for them through simple text and bright illustrations. Includes a section on Marian apparitions, a listing of Marian feast days, and step-by-step instructions for praying the Rosary.
Paperback, 64pp.
#0-8198-4861-1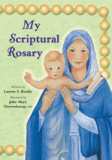 Lauren S. Roddy; illustrated by Julia Mary Darrenkamp, FSP
This classic book teaches children how to pray the Rosary and explains the meaning behind this beloved Catholic prayer. Colorful illustrations help guide children through the prayer and help them to interact with the text. Ideal for children ages 6–8.
Paperback, 64pp.

Compiled by the Daughters of St. Paul; illustrated by Mary Joseph Peterson, FSP
Everything children need to know to pray the Rosary wherever they are! Includes: the twenty mysteries with bright, colorful illustrations; a step-by-step chart on how to pray the Rosary; and the prayers of the Rosary.
Booklet, 32pp.
#0-8198-6485-4

Comic Book
Gene Yang
Tells the stories of the Joyful, Luminous, Sorrowful, and Glorious Mysteries. Features colorful, glossy pictures. Young Catholics can read it as they would any comic book or they can pray with it! Ages 9–12.
Booklet, 56pp.
#0-8198-6479-X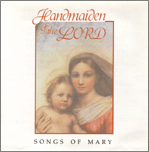 Songs of Mary
Sung by the Daughters of St. Paul Choir
A best-seller! Includes: Hail, Holy Queen ∙ Regina Coeli ∙ Immaculate Mary ∙ Tota Pulchra Es ∙ Mirror of Infinite Beauty ∙ Holy Is His Name ∙ O Mary Immaculate ∙ I Am Thine ∙ Soul of Mary ∙ Hail Mary: Gentle Woman ∙ Sing of Mary ∙ Ave Maria (Schubert). You can listen to clips of the songs if you click on the link above.
CD
#0-8198-3334-7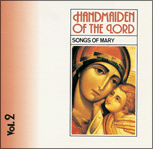 Songs of Mary
Sung by the Daughters of St. Paul Choir
Includes: Daily, Daily Sing to Mary ∙ On This Day, O Beautiful Mother ∙ Hymne à la Vierge ∙ O Mary, Our Mother ∙ Mother Dear, O Pray for Me ∙ Bring Flowers of the Rarest ∙ Holy Mary, Now We Crown You ∙ Ave Maria ∙ I Sing a Maid ∙ Voices Rise in Heartfelt Fervor ∙ Ave Regina Caelorum-Motet ∙ Salve Regina ∙ O Queen of the Holy Rosary ∙ O Be Glad, My Soul, Rejoice ∙ Hail, This Festival Day! You can listen to clips of the songs if you click on the link above.
CD
#0-8198-3342-8

Timeless Marian Prayers
Edited by Renzo Sala
Song to Mary contains nine ancient hymns to the Virgin, in both English and Latin. These hymns deepen one's relationship to the Holy Mother. This beautiful gift book features exquisite, vividly illuminated illustrations. Included songs: Ave Maria/Hail Mary; Angelus Domini/The Angelus; Regina Coeli/Queen of Heaven; Rejoice, and more.
Hardcover, 64pp.
#0-8198-7107-9

Walking with the Mother of Jesus
Written by Irma Pfeifer; Translated and adapted by M. Jean Frisk, S.T.L.; hymn text by Daniela Raab
Unwavering in faith and love, Mary embodies the vocation entrusted to each one of us as disciples of Christ. Pray the Stations of the Cross alongside Mary, our Mother. Great for mothers and women interested in forming an intimate bond with Mary and Jesus.
Booklet, 48pp.
#0-8198-4838-7

Peter Vaccari, Rosemary Vaccari Mysel, Andrew J. Vaccari
The Beauty of Mary highlights the unique role of Mary within the drama of salvation. From the moment of the Annunciation (Luke 1:26–38), Mary's "yes" was one of the most dramatic and significant responses ever recorded in human history! This book traces the story of faith and love found in the maternal heart of Mary. Includes passages by John Paul II, Fr. Benedict Groeschel, Cardinal John Newman, St. John of the Cross, Archbishop Fulton J. Sheen, St. Alphonsus Liguori, St. Augustine, Scott Hahn, Hans Urs von Balthasar, Joseph Ratzinger/Benedict XVI, Dante Alighieri, Joyce Rupp, Caryll Houselander, and many more!
Paperback, 224pp.
#0-8198-1170-X

Novena in Honor of Mary, Queen of Apostles<
Tarcilla Tommasi, FSP, and Linda S. Boccia, FSP
Booklet, 32pp.
#0-8198-5162-0

Compiled by Marianne Lorraine Trouvé, FSP
The Rosary is a way of contemplation, which simply means to look on the face of Christ. With Mary, we remember the mysteries of Christ's life, and with her, we "learn Christ." Praying the Scriptural Rosary brings us into contact with the Word of God. This lovely scriptural Rosary, glowing with beautiful illustrations of stained glass, will be treasured for years to come. Includes the Joyful, Luminous, Sorrowful, and Glorious Mysteries.
Hardcover, 96pp.
#0-8198-7087-0
Leave a comment by MIDNIGHT PST and we'll enter you to win one of these great Marian prizes! One entry per person, please.
Remember to join us tomorrow and for the rest of our Marian Novena of Giveaways!
Editor's Note: Thank you for your support of our special Novena and for your participation in all of the contests! We had a terrific response and appreciate your visits to the donors' websites. I would like to give a huge vote of thanks to Sarah Reinhard for organizing this colossal effort. Winners will be notified via email this week. Thanks to all who participated! LMH
About the Author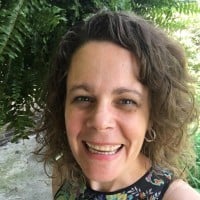 When she's not chasing kids, chugging coffee, or juggling work, Sarah Reinhard's usually trying to stay up read just one…more…chapter. She writes and works in the midst of rural farm life with little ones underfoot. She is part of the team for the award-winning Catholic Mom's Prayer Companion, as well as the author of a number of books. You can join her for a weekday take on Catholic life by subscribing to Three Shots and follow her writing at Snoring Scholar.